14 September is the 257th day of the year (258th in leap years). There are 108 days remaining.
Events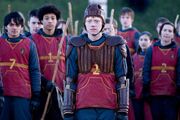 The day of Morfin Gaunt's hearing for attacking Tom Riddle Snr
1996: The Daily Prophet reports the arrest of Stanley Shunpike. The Gryffindor Quidditch team tryouts take place and Harry Potter, the captain, selects Ginny Weasley, Demelza Robins, and Katie Bell as the Chasers, Jimmy Peakes and Ritchie Coote as the Beaters, and Ron Weasley as the Keeper. Later, Harry, Hermione, and Ron visit Rubeus Hagrid and find out Aragog, Hagrid's Acromantula, is dying. The first Slug Club dinner is held. Harry serves detention in the Potions Classroom with Severus Snape sorting Flobberworms.[1]
Behind the scenes
External links
Notes and references
↑ In Harry Potter and the Half-Blood Prince, Chapter 11 (Hermione's Helping Hand), the Daily Prophet reports "Mr Shunpike, 21, was taken into custody late last night". This happens on 14 September as it is one week after Harry's and Dumbledore's first private lesson ("Now Harry came to think of it, he had not seen Dumbledore since their private lesson a week ago.") which we know was on Saturday after the first week of class. (Harry Potter and the Half-Blood Prince, Chapter 10 (The House of Gaunt) - "Ah, good evening, Harry. Sit down," said Dumbledore, smiling. "I hope you've had an enjoyable first week back at school?""). As 1 September 1996 falls on a Sunday then the second Saturday of term would be the 14th.
*Disclosure: Some of the links above are affiliate links, meaning, at no additional cost to you, Fandom will earn a commission if you click through and make a purchase. Community content is available under
CC-BY-SA
unless otherwise noted.