18 June is the 169th day of the year (170th in leap years). There are 196 days remaining until the end of the year.
Events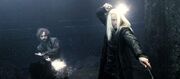 Unknown year: Elsbeth McCormick dies.[1]
1996: Last day of O.W.L. exams. During the History of Magic written paper, Harry Potter has a vision of Voldemort torturing Sirius Black at the Ministry of Magic. To make sure it's real, Harry, along with Ronald Weasley and Hermione Granger, try to contact Sirius via the fireplace in Dolores Umbridge's office. Umbridge catches them, and they trick her into going into the Forbidden Forest, where she is carried off by the centaur herd. Harry, Ron, Hermione, Luna Lovegood, Neville Longbottom and Ginny Weasley fly to the Ministry of Magic by Thestral.[2]
1996: Dumbledore's Army arrives at the Ministry of Magic at night. The Battle of the Department of Mysteries takes place.[2]
Behind the scenes
External links
Notes and references
Community content is available under
CC-BY-SA
unless otherwise noted.