The following events occurred in the year 1990:
Events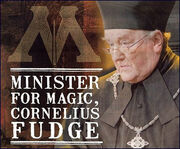 Deaths
Behind the scenes
6 January: Will Howes, who played a Hogwarts student, born.
13 February: Actor Tom Moorcroft, who played Regulus Black, is born.[7]
19 February: Luke Newberry, who played Teddy Lupin, born.
28 February: Actress Georgina Leonidas, who played Katie Bell, is born.[8]
15 April: Actress Emma Watson, who played Hermione Granger, is born.[9] 
1 July: Rob Gunn,who played an extra in the film adaptation of Harry Potter and the Order of the Phoenix, born
12 July: Ekow Quartey, who played Bem in Prisoner of Azkaban, born.[10]
2 September Sarah Harrison, who played a Ravenclaw student, born.[11]
6 October: Actress Scarlett Byrne, who portrays Pansy Parkinson in the film adaptation of Harry Potter and the Half-Blood Prince, is born.[12]
30 December: J. K. Rowling's mother dies after roughly a decade of battling multiple sclerosis.[13]
External links
See also
Notes and references