Jurassic World: Dominion Dominates Fandom Wikis - The Loop
Play Sound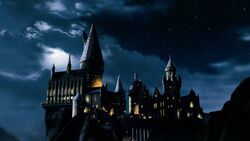 This article lists the general events of the 1991–1992 school year at Hogwarts School of Witchcraft and Wizardry, which had been witnessed by the majority of the students and teachers. It leaves out those events which were only known to Harry Potter and the people close to him.
Staff
The staff at Hogwarts during the 1991–1992 school year were as follows:
Students
Hogwarts students during the 1991–1992 school year
Year
Students
First-years
Gryffindors
Lavender Brown, Unidentified red-haired Gryffindor girl, Unidentified brown-haired Gryffindor girl, Seamus Finnigan, Hermione Granger, Kellah, Neville Longbottom, Parvati Patil, Harry Potter, Dean Thomas, Ronald Weasley
Hufflepuffs
Hannah Abbott, Susan Bones, Justin Finch-Fletchley, Wayne Hopkins, Megan Jones, Ernest Macmillan, Unidentified witch
Ravenclaws
Amanda, Terry Boot, Mandy Brocklehurst, Michael Corner, Anthony Goldstein, Sue Li, Padma Patil, Lisa Turpin, Boy who kept a bezoar in his pocket
Slytherins
Millicent Bulstrode, Vincent Crabbe, Tracey Davis, Gregory Goyle, Daphne Greengrass, Draco Malfoy, Theodore Nott, Pansy Parkinson, Blaise Zabini, Unidentified boy who attended Charm School, Boy who failed Avifors Spell's cousin, Boy who owned a magic hamster
Unknown
Alice, Stephen Cornfoot, Kevin Entwhistle, Morag MacDougal, Roger Malone, Sally-Anne Perks, Oliver Rivers, Runcorn, Sophie Roper, Emma Vane, Sally Smith, Mauricius
Second-years
Gryffindors
Katie Bell, Cormac McLaggen
Hufflepuffs
Ravenclaws
Marcus Belby, Eddie Carmichael, Cho Chang
Slytherins
Unidentified witch
Unknown
Unidentified witch
Third-years
Gryffindors
Angelina Johnson, Lee Jordan, Alicia Spinnet, Kenneth Towler, Fred Weasley, George Weasley
Hufflepuffs
Cedric Diggory
Ravenclaws
Roger Davies
Slytherins
Adrian Pucey, Cassius Warrington, Miles Bletchley, Graham Montague
Unknown
Patricia Stimpson
Fourth-years
Gryffindors
Hufflepuffs
Beatrice Haywood[1]
Ravenclaws
Slytherins
Lucian Bole, Peregrine Derrick, Unidentified first year Slytherin boy[2]
Unknown
Elora Dunn,[3] Linderina Crane[4]
Fifth-years
Gryffindors
Percy Weasley, Oliver Wood, Unidentified petrified Gryffindor girl[5]
Hufflepuffs
Ravenclaws
Penelope Clearwater
Slytherins
Marcus Flint
Unknown
Unidentified first year boy (II)[6]
Sixth-years
Slytherins
Unidentified third year Slytherin boy[7]
Unknown
Unidentified fourth year Chaser[8]
Seventh-years
Gryffindors
Hufflepuffs
Ravenclaws
Eliza
Slytherins
Unknown
Teddy Taylor,[9] Unidentified first year boy (I)[10]
Unknown year
Gryffindors
Entrance Hall Gryffindor prefect, Seventh Floor Gryffindor Prefect, Unidentified Gryffindor prefect,
Hufflepuffs
Girl whose quill was taken by Cedric, Gabriel Truman, Marilyn
Ravenclaws
Robert Hilliard, Music classroom monitor, Unidentified Ravenclaw prefect, Unidentified Ravenclaw prefect (II)
Slytherins
Dungeon Corridor Slytherin prefect (I), Dungeon Corridor Slytherin prefect (II), Gemma Farley, Terence Higgs, Third Floor Corridor Slytherin prefect, Third Floor Slytherin Prefect
Unknown
David Boorman I, Felix Brunt (I), Bush, Irving Cram (I), Simon Dedworth (I), Dobbin, Eekins, Christopher Flack, Jake Flinton, Ross Gibberd (I), Nicolas Grimmett, Robert Hawking, Jarrett, Cyril Meakin, Eric Murley, Damian Perriss, Gordon Pummell (I), Ivan Renshaw (I), Edmund Spiers, Jonathan Spratt, Kevin Sterndale, Terry Strickland, Alex Sykes (I), Walker (Hogwarts student). Ryan Westrup, Mervyn Wynch, Unidentified Hogwarts student interested in earth magic
Timetables
First-year Gryffindor
Notes:
Breaks were used to get from one class to the other. They were at least ten minutes long.[15]
Herbology was held three times a week.[16] At least one Herbology class was held in the first morning period.[17]
There was at least one Defence Against the Dark Arts class in the morning.[18]
Potions was held only once a week,[19] a double class on Friday morning, together with the Slytherins.[12]
A Charms class was held on Hallowe'en morning,[20]. This class was held on the first morning period.[21] In 1991, Hallowe'en was Thursday.[22]
Oliver Wood had a Charms lesson on Thursday afternoon, presumably with other fifth-year students in Gryffindor, at the same time Flying lessons were taking place.[25]
It is unknown when History of Magic classes took place.
Events

Quirinus Quirrell, former Muggle Studies Professor, moved his Professorship to Defence Against the Dark Arts.
Severus Snape applied for the tenth time for the Defence Against the Dark Arts' Chair, but once again was rejected.[26]
Harry Potter, the only known survivor to a Killing Curse (cast by Lord Voldemort), entered Hogwarts.
Ronald Weasley, sixth born child of Arthur and Molly Weasley and Harry Potter's best friend, entered Hogwarts.
Hermione Granger, a Muggle-born witch who would be the most skilled witch of her generation, and future Minister for Magic, entered Hogwarts.
Neville Longbottom, the only child of Frank and Alice Longbottom, and future Professor of Herbology, entered Hogwarts.
Draco Malfoy, the only child of Lucius and Narcissa Malfoy and only heir to the Malfoy family, entered Hogwarts.
Harry Potter, Ron Weasley and Hermione Granger defeated a mountain troll on Hallowe'en.
On Christmas Day, Harry Potter got his father's Invisibility cloak, which would later be revealed being one of the three Deathly Hallows.
Harry Potter, Ronald Weasley and Hermione Granger succeeded against the obstacles in the Underground Chambers: most notably, Ron Weasley defeated Minerva McGonagall's Chessboard, Hermione Granger solved Severus Snape's Potion riddle and Harry Potter both captured the Winged Key (charmed by Filius Flitwick) and, albeit unconsciously, surpassed Albus Dumbledore's charm on the Mirror of Erised.
Defence Against the Dark Arts' Professor Quirinus Quirrell revealed being possessed by Lord Voldemort, fought Harry Potter in the skirmish in the Underground Chambers and was defeated, eventually dying.
Harry Potter, Hermione Granger, Ronald Weasley and Neville Longbottom won an overall of 170 House points in the last evening of the school year, helping Gryffindor win the House Cup.
Slytherin failed to win the House Cup for the first time in seven years.
Quidditch
Inter-House Quidditch Cup winner: either Slytherin or, more likely, Ravenclaw after winning the last match against Gryffindor with a massive margin.
Match results:
Gryffindor-Slytherin: 170 to 60
Hufflepuff-Ravenclaw: ??? to ???
Gryffindor-Hufflepuff: Gryffindor won in less than five minutes; referee of the match was Severus Snape
Slytherin-Ravenclaw: ??? to ???
Slytherin-Hufflepuff: ??? to ???
Gryffindor-Ravenclaw: Gryffindor lost (worst defeat in 300 years)
House Cup
Gryffindor: 482 Points[27]
Slytherin: 472 Points
Ravenclaw: 426 Points
Hufflepuff: 352 Points
Behind the scenes
Appearances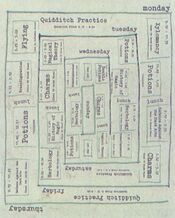 See also
Notes and references