Jurassic World: Dominion Dominates Fandom Wikis - The Loop
Play Sound
Warning!

At least some content in this article is derived from information featured in Harry Potter: Magic Awakened. As such, spoilers will be present within the article.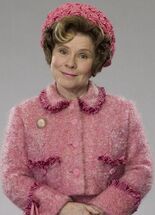 The 1995–1996 school year was Harry Potter's fifth year at Hogwarts School of Witchcraft and Wizardry. The school experienced many changes during this time, mainly due to the interference of the Ministry of Magic and the Hogwarts High Inquisitor, Dolores Umbridge. This article lists the general events which had been witnessed by the majority of the students and teachers. It leaves out those events which were only known to Harry Potter and the people close to him.
Staff
The staff at Hogwarts during the 1995–1996 school year were as follows:
Hogwarts School of Witchcraft and Wizardry faculty and staff during the 1995–1996 school year

| Post | Incumbent | Notes |
| --- | --- | --- |
| Headmaster | | Dolores Umbridge was decreed by the Ministry of Magic to be Headmistress after Dumbledore went on the run; however, the school did not accept her authority and even the Headmaster's office sealed itself against her, so that the Defence Against the Dark Arts Professor's office was temporarily turned into the Head's office. |
| High Inquisitor | Professor Dolores Umbridge | Post created by the Ministry of Magic. The High Inquisitor inspected teachers, passed Educational Decrees, and (later) had supreme say over all punishments and sanctions. Post abolished at the end of the year. |
| Deputy Head | Professor Minerva McGonagall | |
| Head of Gryffindor House | Professor Minerva McGonagall | |
| Head of Hufflepuff House | Professor Pomona Sprout | |
| Head of Ravenclaw House | Professor Filius Flitwick | |
| Head of Slytherin House | Professor Severus Snape | |
| Arithmancy teacher | Professor Septima Vector | |
| Astronomy teacher | Professor Aurora Sinistra | |
| Care of Magical Creatures teacher | | Hagrid was sacked temporarily on 16 June, 1996, but was rehired by Dumbledore at the end of the year. |
| Charms Master | Professor Filius Flitwick | |
| Defence Against the Dark Arts teacher | Professor Dolores Umbridge | Not appointed by Dumbledore; appointed by the Ministry of Magic, under the terms of Educational Decree Number Twenty-Two. |
| Divination teacher | | Trelawney was sacked temporarily on 8 March, 1996, but was rehired by Dumbledore at the end of the year. |
| Flying instructor | Madam Rolanda Hooch | |
| Herbology teacher | Professor Pomona Sprout | |
| History of Magic teacher | Professor Cuthbert Binns | |
| Muggle Studies teacher | Unknown, possibly Charity Burbage | |
| Potions Master | Professor Severus Snape | Snape was put on probation by Umbridge in June of 1996. This period of probation lasted less than a day, however, as Umbridge was removed from her post the next day. |
| Study of Ancient Runes teacher | Professor Bathsheda Babbling | |
| Transfiguration teacher | Professor Minerva McGonagall | |
| Matron | Madam Poppy Pomfrey | |
| Librarian | Madam Irma Pince | |
| Gamekeeper | Professor Rubeus Hagrid | |
| Caretaker | Mr Argus Filch | |
Students
Hogwarts students during the 1995–1996 school year
Year
Students
First-years
Gryffindors
Euan Abercrombie, Girl who tested Fainting Fancies
Hufflepuffs
Rose Zeller
Ravenclaws
Slytherins
Second-years
Gryffindors
Dennis Creevey, Nigel Wolpert, Jimmy Peakes, Unidentified Gryffindor boy, Unidentified Gryffindor boy's friend, Natalie McDonald
Hufflepuffs
Eleanor Branstone, Owen Cauldwell, Laura Madley, Kevin Whitby
Ravenclaws
Stewart Ackerley, Orla Quirke
Slytherins
Malcolm Baddock, Graham Pritchard
Unknown
Emma Dobbs
Third-years
Gryffindors
Romilda Vane
Hufflepuffs
Ravenclaws
Slytherins
Astoria Greengrass
Unknown
Derek
Fourth-years
Gryffindors
Ginevra Weasley, Colin Creevey, Unidentified Gryffindor girl (IX), Curious Gryffindor Girl
Hufflepuffs
Unidentified Hufflepuff girl (III)
Ravenclaws
Luna Lovegood, Unidentified Ravenclaw 4th years
Slytherins
Harper
Unknown
Unidentified fourth year student
Fifth-years
Gryffindors
Lavender Brown, Unidentified brown-haired Gryffindor girl, Unidentified red-haired Gryffindor girl, Seamus Finnigan, Hermione Granger, Kellah, Neville Longbottom, Parvati Patil, Harry Potter, Dean Thomas, Ronald Weasley
Hufflepuffs

Hannah Abbott, Susan Bones, Justin Finch-Fletchley, Wayne Hopkins, Megan Jones, Leanne, Ernest Macmillan, Unidentified witch

Ravenclaws
Amanda, Terry Boot, Mandy Brocklehurst, Michael Corner, Anthony Goldstein, Sue Li, Padma Patil, Lisa Turpin, Boy who kept a bezoar in his pocket
Slytherins
Millicent Bulstrode, Vincent Crabbe, Tracey Davis, Gregory Goyle, Daphne Greengrass, Draco Malfoy, Theodore Nott, Pansy Parkinson, Blaise Zabini, Unidentified boy who attended Charm School, Boy who failed Avifors Spell's cousin, Boy who owned a magic hamster
Unknown
Alice, Stephen Cornfoot, Kevin Entwhistle, Roger Malone, Oliver Rivers, Runcorn, Sophie Roper, Emma Vane, Sally Smith, Mauricius
Sixth-years
Gryffindors
Katie Bell, Carl Hopkins (most likely)[1], Cormac McLaggen
Hufflepuffs
Ravenclaws
Marcus Belby, Eddie Carmichael, Cho Chang, Marietta Edgecombe
Slytherins
Unidentified witch
Unknown
Unidentified witch
Seventh-years
Gryffindors
Angelina Johnson, Lee Jordan, Alicia Spinnet, Kenneth Towler, Fred Weasley, George Weasley
Hufflepuffs
Ravenclaws
Roger Davies
Slytherins
Adrian Pucey, Cassius Warrington, Miles Bletchley, Graham Montague
Unknown
Patricia Stimpson
Unknown year
Gryffindors
Sally Birchgrove, Brian Cinderford, Iain Claverdon, Rachael Codnor, Lisa Cullen, Alison Denshaw, Mary Doyle, Natalie Fairbourne, Terrence Fogarty, Thelma Holmes, Lucy Hurst, Nandini Johar, Michael Karume, Andrew Kirke, Anita Macduff, Angus Matlock, Paul Mawdesley, Michael, Eloise Midgen, Anna Mirfield, Raza Mohammad, David Nolton, Sean Ogbourne, Kate Olney, Thomas Paley, Adam Pickering, Wayne Portchester, Neil Randall, Demelza Robins, Roderick Seaton, Jack Sloper, Yuvraj Suri, Jason Swann, Unidentified card-playing boy
Hufflepuffs
Patrick Bagby, Philip Blagdon, Trisha Buttermere, Poppy Caxton, Luke Cholderton, Martine Copplestone, Irene Denholm, Craig Dunn, Amelia Fittleworth, Rhonda Fladbury, Matthew Kettletoft, Karl Limpley, Gregory Munslow, Harvey O'Brien, Kouta Ohnishi, Gillian Ossett, Anthony Otterburn, Manoj Pandit, Bhavana Patel, Edna Patridge, Sean Peakes, Eldon Pembroke, Gareth Pewsey, Gladys Prescott, Graham Romsey, Lynette Sawley, Zacharias Smith, Lina Tande, Agatha Thrussington, Isabella Tintwistle, Jessica Tring, Zara Valli, Eugene Warmsley, Dora Williams
Ravenclaws
Dennis Aldermaston, Scott Ancrum, Pamela Alton, Ethan Bexley, Trevor Birch, Sheila Brooks, Hortense Cooper, Daisy Corran, Helen Dawlish, Nanette Desford, Felicity Eastchurch, Patrick Fincher, Cordelia Gifford, Maria Glossop, Declan Haworth, Susanna Hesleden, Marcus Hitchin, Jason Huntingdon, Shoma Ichikawa, Nola Johnston, Andrea Kegworth, Noreen Kirkby, Hugo Mattingley, Banga O'Deluga, Latisha Randle, Yolanda Reedham, Hemani Roshan, Omar Shaw, Alannis Shepley, Kim Sheringham, Arman Shettigar, Justin Steele, Nigel Wroxton
Slytherins
Uchi Akimbo, Nerissa Brody, Diane Carter, Fergus Cowley, Curtis Evercreech, Niles Hanley, Maynard Hatton, Holden Ledbury, Xander Lofthouse, Scarlett Lympsham, Thomas McGruder, Agnes Monkleigh, Timothy Morcott, Daryl Morden, Shawn Morris, Irfan Mustaq, Tracey Nettlebed, Bastien Queensbury, Imogen Stretton, Junpei Suruga, Vikram Thakur, Urquhart, Ella Wilkins
Unknown
Luca Caruso, Alice Tolipan
Timetable
Fifth-year Gryffindor
Notes
Monday:
In second term Hermione had Ancient Runes in the afternoon.[11]
Tuesday:
Wednesday:
Fourth-year Gryffindors and Ravenclaws:
Herbology on Tuesday afternoon after lunch.[23]
Seventh-year Gryffindors:
Events
The 1995–1996 Quidditch season at Hogwarts was eventful. Team members and results were as follows:
During the 1995–1996 school year, Angelina Johnson was the Captain of the Gryffindor team. Due to Oliver Wood graduating since they last played in the 1993–1994 school year, selecting a new team player to fill his position as Keeper involved a tough try-out, with Ronald Weasley ultimately chosen as Oliver's replacement.[27]
Original team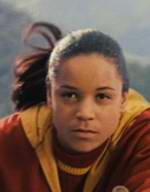 Substitute team
Shortly after one of Gryffindor's first Quidditch matches, Draco Malfoy insulted and provoked Fred, George, Ron and Harry. All except Ron promptly attacked him, had their broomsticks confiscated, and were banned from Quidditch for life by Professor Umbridge[28] (although these bans were lifted after she was removed from Hogwarts).[29] Their replacements were as follows:
The Ravenclaw team members were as follows:

The Slytherin team members were as follows:
The Hufflepuff team members were as follows:
Slytherin lost to Gryffindor
Hufflepuff defeated Gryffindor 240-230
Slytherin lost to Hufflepuff (narrowly)
Gryffindor defeated Ravenclaw
Outcomes of Slytherin vs. Ravenclaw & Ravenclaw vs. Hufflepuff are not mentioned in canon. However, due to Gryffindor winning the Quidditch Cup despite Hufflepuff having two wins, it is very probable that Ravenclaw defeated Hufflepuff.The Gryffindor team won the Quidditch Cup despite missing their original Beaters and Seeker.
In 1995, Harry, Ron and Hermione formed a secret "club" entitled Dumbledore's Army. Its purpose was to prepare students adequately for the outside world and to give them some practise of their spells for their O.W.L.s - something its members agreed the now Ministry-controlled Hogwarts was not doing and deliberately so. After successfully holding regular meetings between 5 October 1995 and 20 April 1996, the Army was forced to split up after Cho Chang's friend Marietta Edgecombe gave their location away to the Inquisitorial Squad.
Weasley family crisis
Shortly before the Christmas holidays, it became common knowledge around Gryffindor House (as well as around the school) that the Weasley family and Harry had to leave early due to some sort of family crisis, although the exact details of this crisis are known by fewer.[32] Students soon realised that the Weasleys returned once classes resumed for the new term.
Professor Umbridge's influence
As of Dolores Umbridge's appointment to the school, Hogwarts underwent many changes. With the Ministry of Magic on her side, Umbridge had a lot power and was highly influential at the school.[33][34][35][36] Albus Dumbledore, despite being headmaster, was powerless to prevent or reverse these changes, and his position as headmaster became largely titular as Umbridge, with the Ministry's backing, effectively took over the day-to-day running of the school.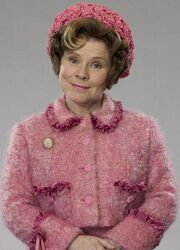 Defence Against the Dark Arts professor
As headmaster Albus Dumbledore could not find a suitable Defence Against the Dark Arts teacher, one was appointed by the Ministry of Magic. This person was Dolores Umbridge, the Senior Under-Secretary to the Minister for Magic (who was Cornelius Fudge at the time).[33]
Theorised classes
Hermione: "There's nothing written up there about using defensive spells."
Umbridge: "Using defensive spells? Why, I can't imagine any situation arising in my classroom that would require you to use a defensive spell, Miss Granger. You surely aren't expecting to be attacked during class?"
— Hermione Granger and Dolores Umbridge, their first D.A.D.A lesson.
Professor Umbridge believed in solely theoretical approach to Defence Against the Dark Arts, which was also the Ministry's view at the time. She claimed that there never would be a situation where students would need to defend themselves from the Dark Arts and denied the return of Lord Voldemort. Her teaching method was also impractical because the O.W.L.s that students were studying for had a practical section in the Defence Against the Dark Arts exam.[34]
Punishment
The following is a list of crimes and their "unusual" punishment, as handed out by Professor Umbridge.
Umbridge was later given supreme authority over all punishments. She used this authority to give Harry and the Weasley twins the aforementioned Quidditch ban,[28] and later to revoke Harry's Hogsmeade visitation privilege.[38]
Position as High Inquisitor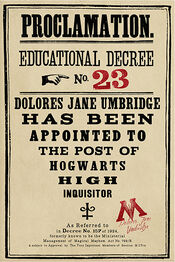 "She's been an immediate success, totally revolutionising the teaching of Defence Against the Dark Arts and providing the Minister with on-the-ground feedback about what's really happening at Hogwarts.' "It is this last function that the Ministry has now formalised with the passing of Educational Decree Twenty-three, which creates the new position of 'Hogwarts High Inquisitor"
— Percy Weasley in the Daily Prophet
After working at Hogwarts for a short while and having a discussion with the Minister, Educational Decree Number 23 was passed, and Umbridge's power increased as she was appointed the first-ever "Hogwarts High Inquisitor".[39] She used this position to evaluate and harass the teachers at Hogwarts. When Harry formed a group to teach practical Defence Against the Dark Arts, Umbridge abolished all student groups of three or more members, meaning students weren't allowed to be seen together in a group larger than three people, or they'd be suspected of rule breaking. This also included Quidditch.[35]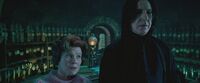 When Harry gave an interview about Lord Voldemort to The Quibbler, Umbridge then banned possession of the magazine. Umbridge also went on to make ludicrous restrictions such as boys and girls not being allowed to stand within a certain limit of one another.[38]
These actions were sanctioned by the Ministry of Magic in the form of Educational Decrees, but students merely found ways to circumvent them. With her new power, she dismissed Sybill Trelawney as Professor of Divination; however, when she attempted to send Trelawney away from the school, she was unable to because Albus Dumbledore still had the power to keep Trelawney on school grounds and chose to do so.[40]
Umbridge was horrified when Dumbledore replaced Trelawney with a centaur named Firenze, and considered him, a mixture of human and horse, a "filthy half-breed".[41] Her strong opinion of centaurs would later get her into trouble.[42]
Teachers tested
All teachers were "tested" by Professor Umbridge during her time as Hogwarts High Inquisitor. She asked them questions concerning their time teaching at Hogwarts and also to see if they were "competent" at their job. She enjoyed putting teachers on the spot; however, some, such as Professor McGonagall, did the same to her in return.[39] She was very prejudiced against some, particularly half-breeds, and judged them before even questioning them.[30]
Dismissals
The following teachers were fired by Dolores Umbridge:
More Educational Decrees
Thanks to Dolores Umbridge, at least seven Educational Decrees were completed. However, in the film, many more are passed. These banned things such as physical contact and student organisations.[44]
The Inquisitorial Squad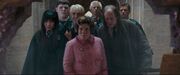 The Hogwarts High Inquisitor created an Inquisitorial Squad which students were eligible to join. Upon becoming a member of the squad, students were able to gain extra credit and award and deduct house points from any other student, including prefects (from whom other prefects cannot).[36]
House Cup
It is unknown who won the House Cup during the 1995–1996 school year.
Amorous relationships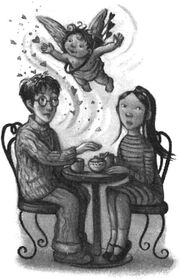 Appearances
See also
Notes and references