"YOU-KNOW-WHO CLAIMS ANOTHER VICTIM: QUIDDITCH WORLD CUP CANCELLED AMID DEATH THREATS."
—The Quibbler headline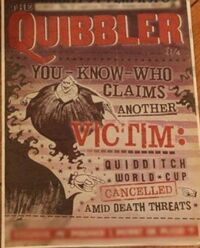 The 1998 Quidditch World Cup was an international Quidditch sporting event occurring in 1998.[1] It was the 423rd edition of the World Cup.[1][2]
In Britain, 1997-1998 coincided with the Fall of the Ministry of Magic and the Death Eater regime. In 1997, the Quidditch World Cup was reportedly cancelled (although it is unclear whether the Cup itself was to be cancelled, or simply the participation of British teams).[3] Regardless of the situation, the Death Eaters were defeated in the Battle of Hogwarts in May, 1998, and the Cup was held that summer.[1]
The final was between Malawi and Senegal, with Malawi winning 260 to 180. It was the second ever all-African final.[1] In response to the riots that took place on the night of the 1994 final, security at this World Cup was tighter than ever before: one notable incident was the arrest of the Senegalese team mascots, Yumboes, outside the stadium. The Yumboes responded to the arrest by stealing every bit of food within a ten-mile radius in revenge and vanishing into the night.[1]
Appearances
Notes and references
Community content is available under
CC-BY-SA
unless otherwise noted.