Jurassic World: Dominion Dominates Fandom Wikis - The Loop
Play Sound
"Is this all real? Or has this been happening inside my head?"

The topic of this article is of a real-life subject that has been mentioned "in-universe" in a canon source. The Harry Potter Wiki is written from the perspective that all information presented in canon is true (e.g., Hogwarts really existed), and, as such, details contained in this article may differ from real world facts.
Aconite[4] (also known as monkshood or wolfsbane)[1][5] was a mundane plant with magical properties.[1]
Description
Its flowers were useful in Potion-making,[1] but its leaves were very toxic.[3] The root of aconite could be used as a potion ingredient.[6] Aconite was most commonly known as an ingredient of Wolfsbane Potion,[6] but it was also an ingredient in Wideye Potion.[2]
History
"Put your gloves on, because today we're tending Aconite. Aconite is useful in many potions, but it's very toxic. Poisoning will result in a failing grade and a visit to the Hospital Wing. Before we begin, I will demonstrate proper safety precautions."
— Professor Sprout to fifth year Herbology students
The Sunrise Early Edition of The New York Ghost published on 30 May 1927 had an article located on page 11, column 4 about Wolfsane seeds found in No-Maj nursery.[7]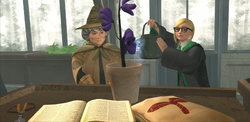 During the 1988–1989 school year, fifth-year Herbology students were taught about Aconite by Professor Pomona Sprout. She had her students wear their dragon-hide gloves whilst handling the plant due its toxicity.[3]
On 2 September 1991, Severus Snape critically interrogated Harry Potter about this plant in his first Potions lesson with him, to see how much he knew about the subject.[1]
Behind the scenes
There are over 250 species of Aconitum, the most common of which are known as aconite, monkshood, or wolfsbane.
Aconitum species are highly toxic, although they were used in medicine as a pain-reliever, diuretic, heart sedative, and to induce sweating.[8]
In medieval Europe, aconite was often used as poison in animal bait.[9] or on arrows used when hunting wolves, hence the herb also became known as wolfsbane.[10]
Aconite, a member of the buttercup family, was believed to be an important ingredient in witches' flying ointments.[11][12]
The closed captions for the film adaptation of Harry Potter and the Philosopher's Stone erroneously refers to aconite as "akamite."
This plant was created for the Beta testing of Harry Potter: Wizards Unite, but it along with other ingredients and potions did not make the final cut and were not released in the game.
Appearances
Notes and references