Warning!

At least some content in this article is derived from information featured in Harry Potter: Wizards Unite. As such, spoilers will be present within the article.
"Tamper with the deepest mysteries ― the source of life, the essence of self ― only if prepared for consequences of the most extreme and dangerous kind."
—Waffling's first Fundamental Law of Magic
Adalbert Waffling (1899 – 1981) was a British wizard who was a magical theoretician, credited to have written "all about magic". Waffling is somewhat seen as the "father of magical theory", as it is a popular claim that every modern witch or wizard has learned from his writings.
Waffling was the one who formulated the Fundamental Laws of Magic and wrote Magical Theory, a most popular textbook still being used today in the of young wizards at Hogwarts School of Witchcraft and Wizardry.
Biography
Early life
Adalbert Waffling was born in the 19th-century. By the 1890s he was already a most notable theoretician.[1] Waffling might have attended Hogwarts School of Witchcraft and Wizardry in his youth, like so many other wizards before him.
Later life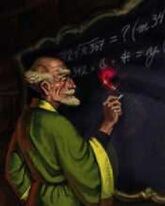 By the
1890s
, Waffling was already one of most notable wizards of the date,
[1]
[2]
so it is more than likely he published some of his writings before this point. Around this time
Albus Dumbledore
, the "
most brilliant student ever seen [at Hogwarts]
", was in regular correspondence with Waffling in order to exchange ideas about magic.
[1]
Minerva McGonagall
later shared these letters with members of the
Statute of Secrecy Task Force
who pursued a
Professorship
profession to help improve their skills in addressing the
Calamity
.
[3]
Waffling died in 1981.
Behind the scenes
Etymology
Adal is Old High German for "noble" or "aristocratic"; berta, "bright". To waffle means unable to make a firm decision.
Appearances
Notes and references