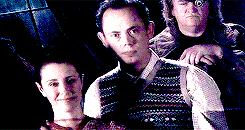 Alice and Frank Longbottom are the parents of Neville Longbottom. They were both Aurors and members of the original Order of the Phoenix during the First Wizarding War before they were tortured to insanity by Bellatrix, Rodolphus, and Rabastan Lestrange; and Bartemius Crouch Jr. The Longbottoms were then sent to St Mungo's Hospital for Magical Maladies and Injuries, where they stayed permanently. See their individual articles for more information:
Also see
*Disclosure: Some of the links above are affiliate links, meaning, at no additional cost to you, Fandom will earn a commission if you click through and make a purchase. Community content is available under
CC-BY-SA
unless otherwise noted.