"There are plenty of eye-witness accounts. Just because you're so narrow-minded you need to have everything shoved under your nose before you–"

This article contains a list of appearances, but currently has few or no notes and references. Please help the Harry Potter Wiki by adding notes and/or references to bring this article to a higher standard of quality.
"Are you a wizard or not?"

The title of this article is conjectural. Although it is based on canonical information, the actual name is a conjecture and may be supplanted at any time by additional information released from canonical sources. If this occurs, please move this page to the appropriate title.
"The first brother travelled on for a week or more, and reaching a distant village, he sought out a fellow wizard with whom he had a quarrel. Naturally, with the Elder Wand as his weapon, he could not fail to win the duel that followed. Leaving his enemy dead upon the floor, the oldest brother proceeded to an inn, where he boasted loudly of the powerful wand he had snatched from Death himself, and of how it made him invincible."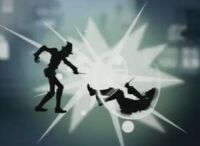 This man (fl. 13th century) was a wizard with whom Antioch Peverell had a quarrel. When Antioch obtained his unbeatable wand, he killed this wizard in a duel and later went into an inn, where he boasted about his powerful wand. Peverell, while sleeping "wine-sodden", had his wand stolen and his throat slit by a thief.
Appearances
Community content is available under
CC-BY-SA
unless otherwise noted.