"Then they visited the Apothecary, which was fascinating enough to make up for its horrible smell, a mixture of bad eggs and rotted cabbages. Barrels of slimy stuff stood on the floor; jars of herbs, dried roots, and bright powders lined the walls; bundles of feathers, strings of fangs, and snarled claws hung from the ceiling. While Hagrid asked the man behind the counter for a supply of some basic potion ingredients for Harry, Harry himself examined silver unicorn horns at twenty-one Galleons each and minuscule, glittery-black beetle eyes (five Knuts a scoop)."
—Description
The Apothecary is a store located at North Side, Diagon Alley which supplies merchants with ingredients for potion-making. This seems to be Harry Potter and the Weasleys' apothecary of choice.
History
On 31 July, 1991, Rubeus Hagrid took Harry Potter to Diagon Alley to purchase supplies for his first year at Hogwarts School of Witchcraft and Wizardry. Harry looked around the store while Hagrid dealt with the man behind the counter, noting that unicorn horns were on sale for twenty-one Galleons apiece, and black beetle eyes for five Knuts per scoop.[1]

Harry Potter returned here in 1993, in the summer before the beginning of his third year at Hogwarts School, to replenish his store of potions ingredients.[2]
In the summer of 1996, Harry joined the Weasleys in shopping for the upcoming school year. Neither Harry nor Ron Weasley bought any ingredients at the Apothecary, as they thought they would not be studying Potions in the school year to come.[3]
Ingredients sold
Behind the scenes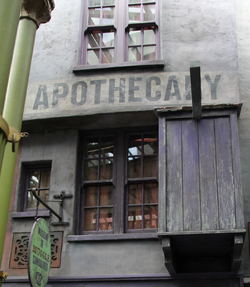 Appearances
Notes and references
|} |}
Community content is available under
CC-BY-SA
unless otherwise noted.