m

(5 intermediate revisions by one other user not shown)
Line 1:
Line 1:
−

[[File:Hogwarts Apothecary Department.jpg|right|thumb|250px|The department's logo.]]

+

[[File:Hogwarts Apothecary Department.jpg||thumb||The department's logo]]

 

The '''Hogwarts Apothecary department''' is a wing at [[Hogwarts Castle]] presumably containing the students' [[Potions (class)|Potions]] store-cupboard.

 

The '''Hogwarts Apothecary department''' is a wing at [[Hogwarts Castle]] presumably containing the students' [[Potions (class)|Potions]] store-cupboard.

 
 
 

==Appearances==

 

==Appearances==

−

*''[[Harry Potter and the Order of the Phoenix (film)]]'' {{Comment|Mentioned on potion}}

+

* {{Comment|Mentioned on potion}}

−

*''[[Harry Potter and the Half-Blood Prince (film)]]'' {{Comment|Mentioned on potion and official merchandise}}

+

* {{Comment|Mentioned on potion and official merchandise}}

−

*''[[Harry Potter and the Deathly Hallows: Part 2 (video game)]]'' {{Comment|Mentioned on potion}}

+

* {{Comment|Mentioned on potion}}

 
 
 

{{Hogwarts unknown locations}}

 

{{Hogwarts unknown locations}}

 
 
 
+

[[es:Departamento Boticario de Hogwarts]]

 

[[pl:Departament Aptekarzy]]

 

[[pl:Departament Aptekarzy]]

 
+

[[ru:Аптекарская кладовая]]

 

[[Category:Apothecaries]]

 

[[Category:Apothecaries]]

 

[[Category:Hogwarts departments]]

 

[[Category:Hogwarts departments]]
---
Revision as of 02:33, 8 April 2018
"There are plenty of eye-witness accounts. Just because you're so narrow-minded you need to have everything shoved under your nose before you–"

This article contains a list of appearances, but currently has few or no notes and references. Please help the Harry Potter Wiki by adding notes and/or references to bring this article to a higher standard of quality.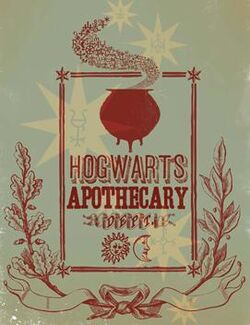 The Hogwarts Apothecary department is a wing at Hogwarts Castle presumably containing the students' Potions store-cupboard.
Appearances
*Disclosure: Some of the links above are affiliate links, meaning, at no additional cost to you, Fandom will earn a commission if you click through and make a purchase. Community content is available under
CC-BY-SA
unless otherwise noted.