Jurassic World: Dominion Dominates Fandom Wikis - The Loop
Play Sound
"Spell that conjures a stream of water from the end of the wand."
— Description
Aqua Eructo was the incantation of a charm that could be used to create a spout of water from the tip of the wand. The intensity of the water flow could be anything from a thin fountain to an immense, powerful and destructive jet.[1]
Effects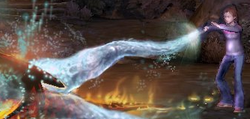 This water could be used for a variety of purposes, such as extinguishing fires (including dragon fire), extinguishing the flames within Fumos Bat Flamers, cooling off fiery beasts like Fire Dwelling Salamanders and Blast-Ended Skrewts, although it was most often used to extinguish flames, as above noted.[1]
This spell worked particularly well with the similarly water-based Ebublio Jinx when both used in tandem when dealing with certain fiery beasts.[1]
History
While impersonating Alastor Moody throughout the 1994-1995 school year, Bartemius Crouch Jnr provided extra lessons for his fourth-years on this charm, among other spells in his Defence Against the Dark Arts classes.[1]
Information on this spell could be found in a certain spellbook, a copy of which was used by Barty Crouch Jnr in his DADA lessons to help teach his students the spell.[1]
Known practitioners
Etymology
"Aqua" is Latin for "water",[2] and "eructo" is Latin for "erupt";[3] therefore, the incantation, roughly translated, means "water erupts". This is suitable given the effect of the spell, which is for large, powerful jets of water to erupt from the wand.
See also
Behind the scenes
This charm appears only in the fourth video game, and does not appear anywhere else in the franchise. Therefore, it may have been meant as an early form of Aguamenti, before the latter came into use.
Appearances
Notes and references