The Argentinian National Quidditch team is the national Quidditch team of Argentina.
History
In 1877, half of this team were found tied up in the basement of a bar in Cardiff, Wales, after the Tournament that Nobody Remembers.[1]
They have reached the quarter-finals of the Quidditch World Cup at least once in the 20th century.[2] They were known participants of the 1994 Quidditch World Cup.[3]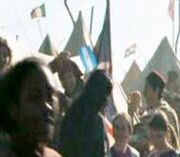 Appearances
Notes and references