m

(28 intermediate revisions by 2 users not shown)
Line 1:
Line 1:
 
+

{{Spoiler|WU|HM}}

−

'''Armadillo bile''' is an ingredient used in the [[Wit-Sharpening Potion]].

 
 
+

{{Ingredient infobox

 
+

|image = [[File:Armadillo_Bile.png|thumb]]

 
+

|madefrom = [[Armadillo]]s

 
+

|usage = *[[Wit-Sharpening Potion]]

 
+

*[[Armadillo Bile Mixture]]

 
+

|characteristics = *Green in colour

 
+

*Putrid scent<ref>{{WU}}</ref>

 
+

}}

 
 
 
+

'''Armadillo bile''' is the bile of an [[Armadillo]], which can be used as a [[potion]] ingredient, such as in the [[Wit-Sharpening Potion]] and the [[Armadillo Bile Mixture]].

⚫

In [[March]]

of

[[1995]], [[Harry Potter]] deliberately spilled his armadillo bile at the end of [[Potions (class)|Potions]] class so he could eavesdrop on a conversation between [[Severus Snape]] and [[Igor Karkaroff]] while he cleaned it up.<ref>

''[[Harry Potter and the Goblet of Fire]]'', chapter

27</ref>

 
 
+
 
+

[[File:ArmadilloBile.png|thumb|left|A bottle of Armadillo bile]]

 
+
 
+

==History==

 
⚫
 
 
 

==Appearances==

 

==Appearances==

 
+

*{{GOF}} {{1st}}

−

*''[[Harry Potter and the Goblet of Fire]]'' {{1st}}

 
 
+

*{{HBP|G}}

−

*''[[Harry Potter and the Half-Blood Prince (video game)]]''

 
 

*''[[The Road to Hogwarts Sweepstakes]]''

 

*''[[The Road to Hogwarts Sweepstakes]]''

 
+

*{{HM}} {{Mention}}

 
+

*{{WU}}

 
 
 

==Notes and references==

 

==Notes and references==

 

{{Reflist}}

 

{{Reflist}}

 
+
 
+

[[de:Gürteltiergalle]]

 
+

[[es:Bilis de armadillo]]

 
+

[[pl:Żółć pancernika]]

 
+

[[fr:Bile de tatou]]

 
+
 
+

[[Category:Body fluids]]

 

[[Category:Potion ingredients]]

 

[[Category:Potion ingredients]]
---
Revision as of 18:12, 16 October 2019
Armadillo bile is the bile of an Armadillo, which can be used as a potion ingredient, such as in the Wit-Sharpening Potion and the Armadillo Bile Mixture.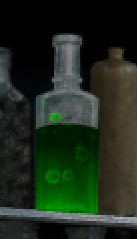 History
In March 1995, Harry Potter deliberately spilled his armadillo bile at the end of Potions class so he could eavesdrop on a conversation between Severus Snape and Igor Karkaroff about the Dark Mark while he cleaned it up.[2]
Appearances
Notes and references
*Disclosure: Some of the links above are affiliate links, meaning, at no additional cost to you, Fandom will earn a commission if you click through and make a purchase. Community content is available under
CC-BY-SA
unless otherwise noted.