Minister Artemisia Lufkin (1754 – 1825) was a British witch. A Hufflepuff students in her early years at Hogwarts School of Witchcraft and Wizardry, Lufkin later became an accomplished Minister for Magic from 1798 to 1811. She was the first female ever to hold the office, being elected at least twice.
Biography
Early life
Artemisia was born in 1754,[3] somewhere in the British Isles, to at least one magical parent. In her youth, she attended Hogwarts School of Witchcraft and Wizardry from around 1765 to 1772, where she was sorted into Hufflepuff.[4]
As Minister for Magic
In 1798, Ms. Lufkin rose to the position of Minister for Magic of Great Britain, and Ireland, succeeding Unctuous Osbert, and became the first female ever to have held the office.[3]
She established the Department of International Magical Cooperation and lobbied hard and successfully to have a Quidditch World Cup tournament held in Britain during her term.[5]
She served as Minister for thirteen years, being succeeded in the post by Grogan Stump in 1811.
Death and post-mortem
Ms. Lufkin passed away in 1825, aged around 71. She was featured in a Chocolate Frog Card by the 1990s.[3]
On 1 September, 1991, Prefect Gabriel Truman welcomed the Hufflepuff first years to Hufflepuff Basement with a short speech in which he mentioned former Minister Artemisia Lufkin as one of the many notable Hogwarts students who had been Sorted, like them, into Hufflepuff.[4]
Etymology
Behind the scenes
Artemisia as depicted on her Chocolate Frog Card has an uncanny resemblance to Lady Tremaine as depicted in the Walt Disney animated film Cinderella released in 1950.
Appearances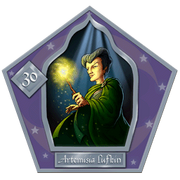 Notes and references
Community content is available under
CC-BY-SA
unless otherwise noted.