Spider-Man: No Way Home Trailer Dropped - The Loop
Play Sound
Warning!

At least some content in this article is derived from information featured in Harry Potter: Hogwarts Mystery. Spoilers will be present within the article.
"Is this all real? Or has this been happening inside my head?"

The topic of this article is of a real-life subject that has been mentioned "in-universe" in a canon source. The Harry Potter Wiki is written from the perspective that all information presented in canon is true (e.g., Hogwarts really existed), and, as such, details contained in this article may differ from real world facts.
"Tell me, what would I get if I added powdered root of asphodel to an infusion of wormwood?"
— Severus Snape to Harry Potter
Asphodel[3] (also known as Royal Staff)[1] is a member of the lily family and has long and slender leaves. It is found worldwide, and was known to grow in the Hogwarts grounds.[5] The plant was not native to Great Britain or Ireland, and required special, well-drained soil to grow.[2] Muggles used to believe the plant grew in the underworld.[2] Sixteen known types of the plant existed, each with their own needs.[2]
History
"Muggles once believed asphodel grew in the underworld, but the greenhouses will do! Let's begin!"
— Professor Sprout to her Herbology students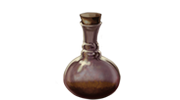 During the 1990–1991 school year, seventh-year students learned asphodels in Herbology class.[2]
On 2 September 1991, Professor Severus Snape mentioned asphodel in his first-ever question directed to Harry Potter in Potions class, asking what potion would be produced if Powdered Root of Asphodel was added to an Infusion of Wormwood, the answer being the Draught of Living Death.[3]
Uses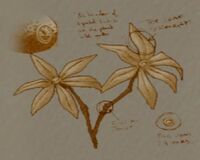 "Its powdered root is a potion ingredient. From the lily family, this plant has long, slender leaves. Its name comes from the Greek asphodelos."
Asphodel has both magical and mundane uses.[1] Powdered root of Asphodel is used in the creation of various potions, such as the Draught of Living Death[3] and the Wiggenweld Potion.[5]
Behind the scenes
Asphodel (Asphodelus ramosus) is a relative of the lily and native to Europe. The ancient Greeks associated it with the death and the underworld, believing there was a meadow of asphodel in Elysian Fields,[6] and considered it sacred to Persephone, goddess of the spring and queen of the underworld. Asphodel was once believed to be a favourite food of the dead, and so was commonly planted near graves.[7]
Appearances
Notes and references