Wiki Targeted (Entertainment)
Play Sound
The Avifors Spell[5] (Avifors)[1] was a transfiguration spell that transformed small objects[1] and creatures[3] into birds.[1] The spell was viewed as a jinx when used to transform certain creatures into birds.[3]
Nature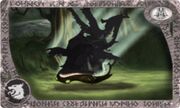 The Avifors Spell could, at times, be a very complicated spell and some beginning Hogwarts students were known to struggle with it. One student nearly failed the class when he proved unable to transform objects into anything more than eggs. His cousin bragged about this.[6]
This spell could also transform certain creatures into birds, like Dugbogs or Blast-Ended Skrewts.[7]
Teaching
The Avifors Spell was learned in first year and revised in second year Transfiguration class with Professor Minerva McGonagall, and was included in The Standard Book of Spells, Grade 2 by Miranda Goshawk.[2]
Known practitioners
Etymology
From Latin "avis", meaning "bird", with the -fors suffix attached.
See also
Behind the scenes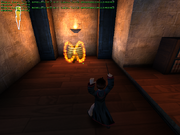 In the Goblet of Fire video game, this spell is categorised under "jinxes", which seems to contradict past depictions in video games, since the earlier video games do not depict this spell as a jinx, but simply as a harmless transfiguration spell which transforms objects into birds. However, it is possible that the spell is also categorised as a jinx when used to transform creatures into birds, as opposed to inanimate objects, similar to how the Doubling Charm is known as the "Geminio Curse" when used to curse objects into multiplying.
The only known wand movement for Avifors appears as cut content in the PC version of the Harry Potter and the Philosopher's Stone video game.
Appearances
Notes and references