"The Banishing Charm is the opposite of the Summoning Charm, and causes objects to fly away from the person casting the spell, towards a specific target."
—Description
The Banishing Charm[2] (Depulso)[1] was a charm that sends the target away from the caster. It could send a target towards a specific location and worked on both living and inanimate things. The Banishing Charm was opposite of the Summoning Charm. Unlike the Summoning Charm, which could summon specific objects from anywhere, the Banishing Charm only banished whatever the wand is aimed at.[2] It also worked on living beings.[2]
History
"They were supposed to be practising the opposite of the Summoning Charm today — the Banishing Charm. Owing to the potential for nasty accidents when objects kept flying across the room, Professor Flitwick had given each student a stack of cushions on which to practise, the theory being that these wouldn't hurt anyone if they went off target. It was a good theory, but it wasn't working very well. Neville's aim was so poor that he kept accidentally sending much heavier things flying across the room — Professor Flitwick, for instance...he Banished a cushion with a sweep of his wand (it soared into the air and knocked Parvati's hat off)."
—A lesson on the Banishing Charm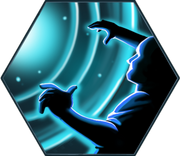 Third year[5] and Fourth year[2] students in Charms class at Hogwarts School of Witchcraft and Wizardry learnt this spell. Harry Potter and his classmates practised this spell in their fourth year Charms class. Harry and Hermione Granger proved to be very good at this spell, with their cushions landing in the correct area. Flitwick found himself being Banished around the room by Neville Longbottom, whose aim was not very good.[2]
Effects
The Banishing Charm was used to push targets, both living and inanimate towards a specific location. For this reason, it could be used in duelling, as shown by Severus Snape (in an alternate reality) when he banished Dolores Umbridge away from himself.[6]
Known practitioners
Etymology
From the Latin "depulsio", meaning "driving/pushing away". Also is similar to repulse meaning "drive/push away with force", although this is a precise antonym to attract, literally "pull towards". It could also be seen to be derived from the English word pulse (as in a pulse of energy) and the prefix "de" which would make it mean "a negative pulse of energy."
See also
Behind the scenes


Appearances
Notes and references
*Disclosure: Some of the links above are affiliate links, meaning, at no additional cost to you, Fandom will earn a commission if you click through and make a purchase. Community content is available under
CC-BY-SA
unless otherwise noted.