Doctor Strange in The Multiverse o Madness - The Loop
Play Sound
Warning!

At least some content in this article is derived from information featured in Harry Potter: Hogwarts Mystery. Spoilers will be present within the article.
"A healthy mind is an inquisitive mind."
— Basil Fronsac's portrait
Professor Basil Fronsac was a wizard. A scholar and a strong supporter of Ravenclaw house, he was appointed as Headmaster of Hogwarts School of Witchcraft and Wizardry sometime before Armando Dippet. There is a portrait of him hung in the Headmaster's office, in order to give advice to the current Head,[4] and several others of a younger him on the Castle's main halls.
Biography
Early life
Basil Fronsac attended Hogwarts School of Witchcraft and Wizardry in his youth and was sorted into Ravenclaw.[5] In his elderly years, Professor Fronsac was appointed Headmaster of Hogwarts.[4]
Portrait at Hogwarts
"Another day's education."
— Basil Fronsac's portrait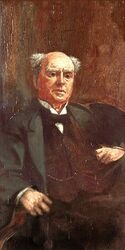 In 1993, Professor Fronsac had several portraits hung at Hogwarts Castle; quite a few of them at the Grand Staircase.[6]
By 1995, his portrait was hung at the Grand Staircase. The portrait guarded a shortcut leading to the second-floor corridor, near the Library. He held a pocket watch and his password was "Studious Success". He would be happy to help any "inquisitive minds" that could find out where Rowena Ravenclaw came from.[5]
In the next school year, the portrait was moved to the Dungeons. He still guarded a secret passage, this time leading to the Grand Staircase. His password became "Libraries Liberate".[7]
Etymology
The name "Basil" is from the Greek name "Βασιλειος" ("Vasileios"), which was derived from "βασιλευς" ("Basileus"), meaning "king". Saint Basil the Great was a 4th-century bishop of Caesarea and one of the fathers of the early Christian church. It was also borne by two Byzantine emperors.
"Fronsac" is a French surname denoting a person who came from the town of Fronsac, which dates back to Gaulish times. In modern times, it is most notable for its namesake wine.
Behind the scenes
Appearances
Notes and references