"...you have two Beaters on each team — it's their job to protect their side from the Bludgers and try and knock them towards the other team."
— Description of the position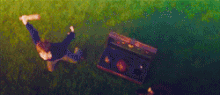 Beater is a position in the Wizarding sport of Quidditch. There are two Beaters on every Quidditch team, and they are the only players on the pitch who have bats, although it is not a foul for a Beater to temporarily pass a bat to a non-Beater in a match.[1][2]
Their job is to keep the Bludgers away from their team and at the same time try and aim the Bludgers towards the opposite team.[1][2] However, aiming Bludgers at the audience is a foul known as Bumphing.
History
Beaters have probably existed in the game of Quidditch since the introduction of the Bludger. Beaters are not meant to be goal scorers, and there is no indication that any Beater has ever handled the Quaffle during gameplay.
Traits
Beaters need to be well built, having considerable physical strength in their arms since they are charged with hitting the Bludgers throughout the whole match. Because of this, most of the beaters throughout history have been wizards rather than witches playing in this position. However, there have been exceptions, such as the famous Captain of the Holyhead Harpies, Gwenog Jones, among others.
Beaters also need to have good balance, as they are, at times, required to take both hands off their broomstick.
Known Beaters
Appearances
Notes and references
*Disclosure: Some of the links above are affiliate links, meaning, at no additional cost to you, Fandom will earn a commission if you click through and make a purchase. Community content is available under
CC-BY-SA
unless otherwise noted.