Jurassic World: Dominion Dominates Fandom Wikis - The Loop
Play Sound
Beaumont Marjoribanks (1742—1845) was a wizard and pioneer in the field of Herbology, having collected and classified many rare magical plants and flowers.[1]
Biography
He was the first person to have discovered Gillyweed. For his contributions to the field of Herbology, he was featured on a bronze Chocolate Frog Card.[1]
During the 1993-1994 school year, there was a bust of Marjoribanks on the History of Magic Classroom, next to Cuthbert Binns's desk.[2]
Magical abilities and skills
Herbology: Marjoribanks was a pioneering Herbologist who was the first person to discover the magical plant Gillyweed, an achievement he was acknowledged on a bronze Chocolate Frog Card for.[1]
Etymology
His first name "Beaumont" comes from a French surname meaning "beautiful mountain."
His surname comes from the Scottish Lowlands Clan Marjoribanks, whose name is (according to legend) derived from the area originally called "Marjorie's Banks" in honour of Princess Marjorie Bruce, who owned the territory alongside her husband. The name "Marjorie" is derived in part from the name of the herb marjoram.
Behind the scenes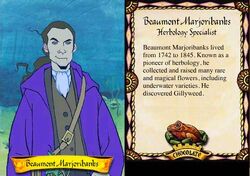 Despite the fact that it is said Majoribanks discovered Gillyweed, Elladora Ketteridge is said to have discovered its effects about a century earlier. This error would be fixed if the dates were switched, or if Majoribanks was alive before, or at the same time as Ketteridge, as he only discovered the existence of Gillyweed, while Ketteridge discovered its magical effects.
There appear to be inconsistencies in the spelling of this individual's surname: in the video games, it appears to be spelt "Majorbanks". In the real-life Chocolate Frog Cards once released in the United States (which were penned by J. K. Rowling), it is spelt "Marjoribanks".
The Chocolate Frog Card portrait of Marjoribanks featured in the video games appears to be a direct homage to Rembrandt Peale's 1801 oil painting Rubens Peale with a Geranium in both pose and setting.
Appearances
Notes and references