Wiki Targeted (Entertainment)
Play Sound
This article is non-canon.
This article covers a character that has been deemed non-canon by either the author or the Harry Potter licensees, and thus should not be taken as a part of the "real" Harry Potter universe.
Bem[3] (born c. 1979–1980[1]) was a wizard of Nigerian descent[4] who attended Hogwarts School of Witchcraft and Wizardry from 1991 to 1998.[5] He was Sorted into Gryffindor and was in Harry Potter's year, however he did not share a dormitory with Harry and his friends.
Biography
Hogwarts education
Early years
Being Nigerian in descent, Bem began his education at Hogwarts School of Witchcraft and Wizardry in 1991, along with students Harry Potter, Hermione Granger and Ron Weasley.[1] He was Sorted into the house of Gryffindor, but would not share a dormitory with the other known Gryffindor boys in his year.[5]
Third year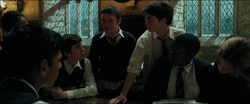 Bem chose Care of Magical Creatures and Divination as electives in his third year.[5] Bem explains the meaning after Sybill Trelawney found a grim in Harry's teacup. He is seen again in the Main Hall studying as Seamus told everyone that Sirius Black was sighted at an area close to Hogwarts. He agreed with Seamus that Sirius can get passed the Dementors and believed that he would do it again.
Fifth year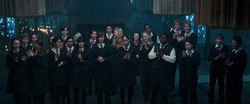 In his fifth year (the 1995–1996 school year), Bem became a member of Dumbledore's Army, in order to learn practical defensive magic from Harry Potter and to rebel against the tyrannical and incompetent Defence Against the Dark Arts professor Dolores Umbridge.[6]
Physical appearance
He was a black boy with dark eyes and a round face. He was also slightly overweight with a lisp.[5]
Etymology
The name Bem means "peace" in the language of the Tiv, of Nigeria and Cameroon and also means "good" or "well" in Portuguese.[7] "BEM" is also an abbreviation for British Empire Medal, a medal received from British royalty for meritorious civil or military service, which reflects Bem being Sorted into Gryffindor.
Behind the scenes
Like the character Nigel Wolpert, Bem is not mentioned in the books, but is credited in the films. Played by Ekow Quartey,[8] the character is listed in the credits for Prisoner of Azkaban as simply "Boy 1". However, on the Prisoner of Azkaban DVD, the closed captions identify the character as "Bem" during the Divination class scene.
Bem cannot be considered canon, as the books identify in several places that there are only five Gryffindor boys in Harry's year: Harry Potter, Ronald Weasley, Neville Longbottom, Seamus Finnigan and Dean Thomas.
Bem also makes an appearance as a member of Dumbledore's Army in Harry Potter and the Order of the Phoenix. His house was changed to Ravenclaw, probably to correct their mistake of putting him in Gryffindor last time. He appears in the credits as "Ravenclaw boy".
See also
Appearances
Notes and references