Bertie Bott (b. 1935) was a wizarding confectioner, who accidentally created Bertie Bott's Every Flavour Beans. For this, he was featured on a Chocolate Frog Card.
Biography
Early life
Bott was born in the year 1935, somewhere in Great Britain.[1][2]
Invention of Every Flavour Beans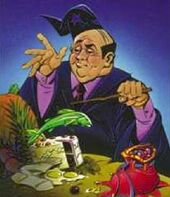 During years of his life, Bott dedicated himself to confectionary and sweets production. One day, in the mid-twentieth century, Bott made a mistake that would make him famous: while trying to create tasty sweets from food, a pair of dirty socks were accidentally included in the experiment. Recognising the sales potential of sweets that presented "a risk with every mouthful", Bott started commercialising them under the name Bertie Bott's Every Flavour Beans. For the invention of these famous sweets, Bott is featured on a Chocolate Frog Card.[1][2]
In 1993-1994 at Hogwarts School of Witchcraft and Wizardry, a Portrait of him guarded a secret room, the password to enter was "Bibble".[3]
Behind the scenes
Albus Dumbledore said that in his youth he had a vomit flavoured bean and no longer liked them. Dumbledore would have been at least in his fifties at this time. But considering his age he might have considered himself young then.
Appearances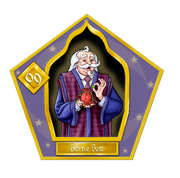 Notes and references
*Disclosure: Some of the links above are affiliate links, meaning, at no additional cost to you, Fandom will earn a commission if you click through and make a purchase. Community content is available under
CC-BY-SA
unless otherwise noted.