The Bloomsbury Harry Potter website is Bloomsbury Publishing's official website for the U.K. releases of the Harry Potter books. Launched in 2001, the site features information about both the books and author J. K. Rowling, as well as bonus features such as games and printable bookmarks & posters.
In June 2012, Bloomsbury launched a contest on the site, a search for the U.K. and Ireland's biggest Harry Potter fan. The contest was open to residents of those regions.
Sections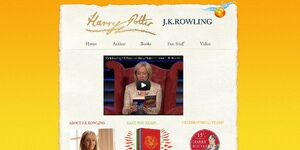 Author - A biography of J. K. Rowling with news updates, a press photo circa 2007, and a video interview with Rowling regarding The Tales of Beedle the Bard. Subsections include additional interviews and videos, as well as details on awards won.
Books - Details on each book in the main series, an archive of all U.K. releases, and a glossary describing key terms and characters from the series.
Fun Stuff - Includes the games Magical Matches and Harry Potter Connection, as well as computer desktop wallpapers, printable bookmarks and posters
Video - selected videos regarding Harry Potter launches, promotions and interviews with Rowling
External links
*Disclosure: Some of the links above are affiliate links, meaning, at no additional cost to you, Fandom will earn a commission if you click through and make a purchase. Community content is available under
CC-BY-SA
unless otherwise noted.