"Is this all real? Or has this been happening inside my head?"

The topic of this article is of a real-life subject that has been mentioned "in-universe" in a canon source. The Harry Potter Wiki is written from the perspective that all information presented in canon is true (e.g., Hogwarts really exists), and, as such, details contained in this article may differ from real world facts.
"Boa constrictors can grow up to four metres long. They eat anything they set their sights on including birds, pigs and monkeys. They do this by grabbing their prey, wrapping their bodies around their victims until they suffocate, and finally swallowing them whole."
—Description on a plaque at the Zoo.
The Boa constrictor (binomial name Boa constrictor) is a large, heavy-bodied species of snake, a member of the family Boidae.[3]
History
On 23 June, 1991, Parselmouth Harry Potter spoke to a boa constrictor from Brazil that was in captivity at a Zoo in Surrey. Harry unknowingly used underage magic by making the glass of its enclosure vanish, freeing the boa. The boa then said to him "Brazil, here I come. Thanksss, amigo", before leaving.[1]
Behind the scenes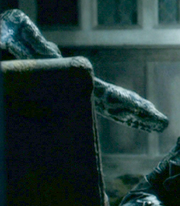 In the film adaptation of Harry Potter and the Philosopher's Stone, the boa constrictor from Brazil is changed to a Burmese python from Burma, and so is the mention of it in the film adaptation of Harry Potter and the Chamber of Secrets.
In both the book and the film, the snake winks at Harry, despite the fact that snakes have no eyelids.
Also in the film, after the boa is freed the glass reappears trapping Dudley on the inside of the pen.
In the film adaptions of Harry Potter and the Goblet of Fire, Harry Potter and the Order of the Phoenix and Harry Potter and the Half-Blood Prince, in flashback, Nagini, Voldemort's pet snake, is portrayed as a Dumeril's Ground Boa which also goes by the name boa constrictor. A Reticulated Python portrayal replaced this in the last two films.
Because they look alike, especially in the films, there was a rumour that JK Rowling stated that the Boa Constrictor at the zoo and Nagini are the same snake. However, this is not true.
Appearances
Notes and references
*Disclosure: Some of the links above are affiliate links, meaning, at no additional cost to you, Fandom will earn a commission if you click through and make a purchase. Community content is available under
CC-BY-SA
unless otherwise noted.