Wiki Targeted (Entertainment)
Play Sound
"The little boats carried them through a curtain of ivy which hid a wide opening in the cliff face. They were carried along a dark tunnel, which seemed to be taking them right underneath the castle, until they reached a kind of under-ground harbour, where they clambered out onto the rocks."
— The First year students' boat journey to Hogwarts.
The Boathouse was an underground harbour at Hogwarts School of Witchcraft and Wizardry where the boats were stored and where they docked when the first years arrived at Hogwarts Castle every 1 September.[1]
History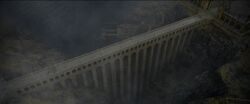 In 1927, when Newt Scamander and his allies travelled to Hogwarts to meet with Dumbledore, while walking on the Viaduct, the boathouse could be seen down below.
Until 1995 a portrait of Percival Pratt hung on one of the walls, concealing a shortcut to the Grand Staircase There are some rafters in the ceiling, that are used to store the small wooden boats. Seagulls can be seen around the area of the boathouse.[2]
After Pratt's portrait was taken away from the Boathouse, there were only three entrances to this building: The path outside The Quad, the stairs going down from the Entrance Courtyard and the Lake. For Horace Slughorn's Slug Club Christmas party in December 1996, fireworks were set from the Boathouse exterior, to signal the start of said party.[3]
The boathouse was the site of a fire involving Eustace Fawley during his third year. The scene was investigated by Mathilda Grimblehawk and her partner as well as Jeremiah Garnet, a reporter for the Wizarding Wireless Network who believed a dragon was responsible.[4]
Behind the scenes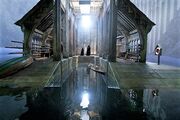 Appearances
Notes and references