Spider-Man: No Way Home Trailer Dropped - The Loop
Play Sound
"Is this all real? Or has this been happening inside my head?"

The topic of this article is of a real-life subject that has been mentioned "in-universe" in a canon source. The Harry Potter Wiki is written from the perspective that all information presented in canon is true (e.g., Hogwarts really existed), and, as such, details contained in this article may differ from real world facts.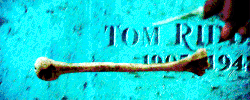 "Big bones... the only thing that's got bigger bones than her is a dinosaur."
— Harry Potter making light of Olympe Maxime's insinuation that she was not a half-giant
Bones are a hard structure that make up the skeleton of vertebrate organisms. They provide structure and protection for the body's other organs, and are responsible for the production of blood, among other, more minor uses.[1] In the wizarding world, bones have a variety of uses.
Bones was also the surname of a prominent wizarding family in Great Britain.[2]
Notable uses
Behind the scenes
Appearances
Notes and references
↑ Harry Potter and the Philosopher's Stone, Chapter 4 (The Keeper of the Keys)
↑ Harry Potter and the Chamber of Secrets, Chapter 4 (At Flourish and Blotts)
↑ 4.0 4.1 Harry Potter and the Chamber of Secrets, Chapter 10 (The Rogue Bludger)
↑ Harry Potter and the Chamber of Secrets (film) - Chapter 15 (The Rogue Bludger)
↑ Harry Potter and the Chamber of Secrets (video game) - GBC version
↑ Harry Potter and the Goblet of Fire, Chapter 16 (The Goblet of Fire)
↑ Harry Potter and the Goblet of Fire, Chapter 31 (The Third Task)
↑ Harry Potter and the Goblet of Fire, Chapter 32 (Flesh, Blood and Bone)
↑ Harry Potter and the Goblet of Fire, Chapter 35 (Veritaserum)
↑ Harry Potter and the Order of the Phoenix, Chapter 20 (Hagrid's Tale)
↑ Harry Potter and the Order of the Phoenix, Chapter 22 (St Mungo's Hospital for Magical Maladies and Injuries)
↑ Harry Potter and the Deathly Hallows, Chapter 31 (The Battle of Hogwarts)