Bonnie Francesca Wright (b. 17 February 1991) is an English actress, fashion model, screenwriter, director and producer. She is best known for playing Ginny Weasley in the Harry Potter films.
Biography
Early life
Bonnie was born on 17 February, 1991 in London, England to Gary Wright and Sheila Teague, who are both jewellers and owned their own company called Wright & Teague. Bonnie has an older brother named Lewis, who influenced her to audition for the role of Ginny. She went to Prior Weston Primary School, in Islington and is a trained dancer studying ballet, African and Modern. She also sings, plays the piano, and enjoys art. In her spare time she enjoys playing football and surfing. Wright has visited many places including; India, Spain, Italy, Finland, America, Australia, France, Denmark and Poland.
Career
Wright auditioned for the role of Ginny Weasley because her brother said she reminded him of the character.[1] Wright appears in the first film, Harry Potter and the Philosopher's Stone, only in a small scene set at London King Cross Station, where her character and her mother Molly meet Harry Potter as four of her older brothers board the Hogwarts express. Her role became much more prominent in the second film, Harry Potter and the Chamber of Secrets, in which her character begins studies at Hogwarts and encounters a secret diary that begins to control her actions. She also opened the titular chamber in the same film under the influence of Tom Riddle, the main antagonist of the Harry Potter series. Wright's was seen in the third film, Harry Potter and the Prisoner of Azkaban chatting with Hermione in one background and had few dialogues. However, her character had a bonafide supporting role in the fourth film, Harry Potter and the Goblet of Fire, with dialogue sprinkled across several scenes and perhaps her most screen-time yet.
In Harry Potter and the Order of the Phoenix, Wright as Ginny played a central role, with hints of Ginny's greater importance to the overall plot by joining Dumbledore's Army and eventually participating in the climactic battle between the DA and the Order of the Phoenix with Lord Voldemort and the Death Eaters. Wright's central role continued in Harry Potter and the Half-Blood Prince where she became an important chaser of the Gryffindor Quidditch team and ultimately Harry Potter's love interest.
Finally, in Harry Potter and the Deathly Hallows Parts 1 and 2 Wright reprised her central role of Ginny Weasley for the last time, particularly in scenes before Harry, Ron, and Hermione set out on their quest to find the Horcruxes and destroy Voldemort in Part 1 and in Part 2, in the Battle of Hogwarts, and the 19 years later scene as Harry Potter's wife and mother of their three children.
Wright has also provided the voice of Ginny Weasley in the video game versions of Harry Potter and the Order of the Phoenix and Harry Potter and the Half-Blood Prince. Wright is one of the thirteen actors who has appeared in all eight films of the Harry Potter franchise.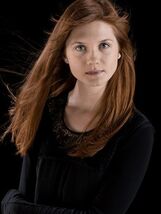 Wright received extremely positive reviews for her performances as Ginny. Variety wrote, "Bonnie Wright's Ginny intrigues as the sort of initial plain Jane who keeps growing on you."[2] Comingsoon.net wrote "that If someone told me eight years ago that Bonnie Wright, introduced as Ginny Weasley in the first film, would turn into such a strong dramatic actress who could carry scenes as well as the three leads, I wouldn't have believed it,"[3] and Film School Rejects who also wrote, "Ginny (Bonnie Wright) in particular shines through, building on the power she gained in the last film to become an independent young woman that proves more complex with every scene."[4]
Bonnie has also starred in two television films: 2002's Stranded and 2004's Agatha Christie: A Life in Pictures playing the younger version of Agatha Christie. Wright was also a guest on Disney's The Replacements voicing Vanessa in season two opener 'London Calling' in 2007.
In 2008, Bonnie was nominated and awarded fifth place in Portrait Magazine, Top 30 Under 30 2008 List,[5] also her Harry Potter co-star Emma Watson, was also nominated in Portrait Magazine, Top 30 Under 30 list and came in fourth place.[6] Wright and Watson were the only ones from the Harry Potter cast to be nominated in the Top 30 Under 30 2008 list by Portrait Magazine. In December 2008, Bonnie presented the Me and My Movie Award at the Children's Bafta Awards.
In 2009, Wright appeared in various and exclusive photoshoots and interviews: including with the Evening Standard,[7] Grazia magazine,[8] Entertainment Weekly[9] with her Harry Potter co-stars Daniel Radcliffe who plays Harry Potter, Rupert Grint who plays Ginny's brother Ron Weasley and Emma Watson who plays Hermione Granger, No. Magazine,[10] The Times Luxx Magazine,[11] Drama Magazine,[12] and The Daily Mail You Magazine.[13] Bonnie has also participated in a video for Elle UK where she talks about fashion.[14]
"I've always been very interested in fashion, but it is extremely important to me that the social and environment issues associated with the production of fashionable clothing are addressed. Made-By carries out really important work in transforming the fashion industry, and I am thrilled to support the organisation and help raise awareness of these ongoing issues."
— Bonnie Wright talks about fashion organisation Made-By[15]
Also in 2009, Wright became an ambassador and supporter for fashion organisation Made-By. Bonnie was also ranked in seventh place in Top 10 Chicks in 2009 Flicks by Heart Less Doll website.[16] Wright was nominated and voted in second place in Portrait Magazine, Top 30 Under 30 2009 List.[17] Bonnie's fellow Harry Potter co-stars were also nominated - Evanna Lynch who plays Luna Lovegood was third place, Rupert Grint who plays Ron Weasley was fifth place, Emma Watson who plays Hermione Granger was in eighth place, Tom Felton who plays Draco Malfoy was in fourteenth place, and Daniel Radcliffe who plays Harry Potter was in eighteenth place in Portrait Magazine, Top 30 Under 30 2009 List.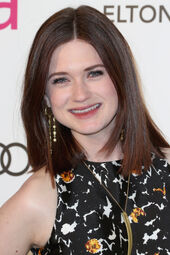 Bonnie then signed to star in a short film called Sweat. Sweat is part of a project of five films titled Geography of the Hapless Heart. She played the leading female character, Mia.[18] Alexandra Billington, who is Sweat film producer and writer spoke about Wright and said "Bonnie played the role of Mia beautifully and with a maturity that did great justice to the character. Filming went fantastically well and Bonnie was both highly professional and a complete pleasure to work with." Billington has also mentioned that Bonnie's character Mia was "free spirited young woman yet has enough depth to attract the more intense and introspective.".[19] The filming of the film is now completed and the film was released in 2012.
In 2010, according to an article by the Guardian, UK, Bonnie was featured to be a Observer Ethical Awards 2010 judge.[20] Wright has been listed on Glamour Magazine UK 35 Most Stylish Women of 2010, Glamour magazine wrote about her and said "Forget the Hogwarts uniform, this Harry Potter star has wowed us with her mature red carpet choices," and named her as the next Cate Blanchett.[21] Bonnie was featured in the InStyle Magazine UK Best of British Talent photoshoot with her Harry Potter co-stars Jamie Campbell Bower and Rupert Grint.[22] Wright also participated in photoshoot for UK charity Oxfam, modelling as the face of her parents company Wright & Teague collaboration line for Oxfam.[23][24] Bonnie has been featured in Nylon Magazine Young Hollywood 2010 Issue photoshoot and video, where she talks about her favourite songs, her Harry Potter co-stars Rupert Grint and Tom Felton was also featured in Nylon Magazine.[25][26] Wright appeared in a photoshoot alongside with her co-star and boyfriend Jamie Campbell Bower in Vanity Fair Magazine.[27] Bonnie also featured in a Dirrty Glam Magazine photoshoot.[28] Wright has also participated in an interview and photoshoot with ASOS Magazine.[29] Bonnie is signed with Next Models Agency under special bookings.[30]
In 2011, Wright won the Most Edgy Look award at the Rodial Beautiful Awards.[31] Bonnie has also appeared as a catwalk model for fashion designer Katie Eary, Autumn/Winter 2011 show during London Fashion Week in February 2011.[32]
Wright confirmed that she would be starring in The Philosophers an American production to start filming June 2011 in Jakarta, Indonesia.[33] The Philosophers is a film about "an international school in Jakarta, a philosophy class is having its last session. The professor challenges twenty-one graduating seniors to select ten who would take shelter underground and reboot the human race in the event of a nuclear attack." Wright played one of the students Georgina.[34] It was later renamed After the Dark and was released on 7 February 2014.
In June 2012, Bonnie joined the film Before I Sleep starring Chevy Chase, Eric Roberts, Tom Sizemore, James Rebhorn, Cynthia Gibb, Sasha Spielberg, and Campbell Scott.[35][36][37]
In September 2012, Wright joined the cast of The Sea, based on the award winning novel of the same name by John Bansville playing Rose the young nursemaid. Her co-stars included Ciaran Hinds (Aberforth Dumbledore), Rufus Sewell, Sinéad Cusack, Charlotte Rampling, and Natascha McElhone.[38]
Later in 2012, Wright started shooting a British 18th century period film In Want of a Wife in her first starring role, playing Lydia, opposite Oscar nominee Emily Watson.[39][40][41]
In 2013, Wright made her stage debut as The Girl in The Moment of Truth which was performed at Southwark Playhouse from 26 June to the 20 July. She received positive reviews for her performance.[42]
Wright has also wrote screenplays and directed several projects such as Separate We Come, Separate We Go which was released in 2012[43] and Know Thyself which premiered in early 2016.[44] In January 2016, Wright confirmed her next project as director will be named Medusa's Ankles which is based on a short story by A S Byatt.[45]
She performs "Babbitty Rabbitty and her Cackling Stump" for the audiobook release of The Tales of Beedle the Bard.
Personal life
Interviews from 2009 stated that Bonnie attended London's University of the Arts to study film and television course. In 2012, Wright graduated with a Bachelor of Arts degree from London's University of the Arts, and she now owns her own production company called Bon Bon Lumiere.[46] She has also stated that she plans to continue to act and work behind the scenes after Harry Potter.[47]
In 2010, Wright was confirmed to be dating fellow actor and Harry Potter co-star Jamie Campbell Bower who appeared as young Gellert Grindelwald.[48] In April 2011, Bonnie and Jamie confirmed their engagement. As of 2012, the couple have split.
Filmography
FIlm and Television
Video Games
Trivia
Bonnie Wright's favourite quote she said as the role Ginny Weasley was, "Good luck."
Behind the scenes
Bonnie's hair is naturally red, like her character in the Harry Potter films, but her eyes are blue, while Ginny's are brown. She is also, at 5' 6" (1.68 m), not as short as Ginny is described to be in the books.
Bonnie's middle name is Francesca, which was revealed in the Harry Potter and the Half-Blood Prince poster book cast interviews.[49] Bonnie's middle name was previously thought to be Kathleen.
Bonnie has said that when filming Harry Potter and the Chamber of Secrets, in the Chamber of Secrets scene, when Harry comes to rescue Ginny, the marble floor was so cold that there were hot water bottles in her clothes.
Like her character, Bonnie was sorted into Gryffindor on the updated Pottermore sorting quiz.[50]
Notes and references
External links
*Disclosure: Some of the links above are affiliate links, meaning, at no additional cost to you, Fandom will earn a commission if you click through and make a purchase. Community content is available under
CC-BY-SA
unless otherwise noted.