"I could not be prouder that this simple school text book is now being used in schools for magic all over the world, and has been translated into seventy-two languages, including Gobbledegook and Mermish."
— Miranda Goshawk, Book of Spells (Foreword)
Book of Spells is a spellbook written by Miranda Goshawk. An old copy of it (probably a first edition, seeing as such rare books are known to be kept there)[2] is kept at the Library of Hogwarts, in the Restricted Section.[3]
History
The Book of Spells was a huge success, and was used in several schools for magic all over the world. It has since been translated into seventy-two different languages (including Gobbledegook and Mermish).[1]
Some two hundred years after its publication, a student at Hogwarts School of Witchcraft and Wizardry got permission to use the Hogwarts Library's copy of the book to supplement their studies. The Charms Professor at Hogwarts at that time assisted this student in learning from the book.[1]
Description and contents
"This spellbook will enable you to perform a range of basic and not-so-basic charms that will enhance, protect and enliven your life."
— Description
The Book of Spells is more than just a simple textbook, however. The book was enchanted by Miranda Goshawk to be capable of projecting its text out of the page for simpler reading, as well as conjuring various objects, and even entire rooms, to provide a safe environment for practising the book's various spells. The book's enchantments are such that even doodles and other embellishments added by previous owners of a copy of the book would be added to the book's contents and could be utilised by future readers of that copy.[1]
Known contents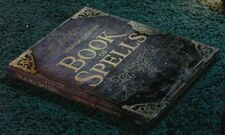 In addition to its printed contents, the Hogwarts Library copy has the following spells written in the margins by previous students:
Behind the scenes
Book of Spells was purportedly "200 years old",[3] suggesting it was published sometime in 1812 (200 years prior to 2012, the year in which the game was released) or 1791-1798 (200 years before the time setting of the Harry Potter novels. However, its author, Miranda Goshawk, was born in 1921. Possible explanations are that the game is set sometime after 2121, that Goshawk had an ancestor coincidentally bearing her name, or that Goshawk did not actually write the book, but edited it for contemporary audiences.
A Wizard Values Quiz for the Book of Spells was offered through Pottermore.
In Harry Potter: Hogwarts Mystery, the Book of Spells is a required textbook. It is possible that it is meant to refer to the Standard Book of Spells, since the book in Harry Potter: Hogwarts Mystery seems to cover charms only.
Appearances
Notes and references
*Disclosure: Some of the links above are affiliate links, meaning, at no additional cost to you, Fandom will earn a commission if you click through and make a purchase. Community content is available under
CC-BY-SA
unless otherwise noted.