"Are you a wizard or not?"

The title of this article is conjectural. Although it is based on canonical information, the actual name is a conjecture and may be supplanted at any time by additional information released from canonical sources. If this occurs, please move this page to the appropriate title.
Quirinus Quirrell: "P-P-Potter. C-can't t-tell you how p-pleased I am to meet you."
Harry Potter: "What sort of magic do you teach, Professor Quirrell?"
Quirinus Quirrell: "D-Defence Against the D-D-Dark Arts. N-not that you n-need it, eh, P-P-Potter? You'll be g-getting all your equipment, I suppose? I've g-got to p-pick up a new b-book on vampires, m-myself."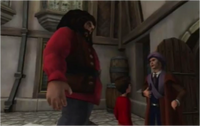 A book on vampires was published at some point before July, 1991. Quirinus Quirrell told Harry Potter and Rubeus Hagrid that he was going to Diagon Alley in order to buy a copy of this book, when in reality he wished to break into Gringotts Wizarding Bank to steal the Philosopher's Stone.[1]
Behind the scenes
The existence of this book is debatable, as it is possible that Quirrell simply fabricated it rather than referring to an already existing publication.
Appearances
Notes and references
*Disclosure: Some of the links above are affiliate links, meaning, at no additional cost to you, Fandom will earn a commission if you click through and make a purchase. Community content is available under
CC-BY-SA
unless otherwise noted.