"Harry, your eyesight really is awful."

The title of this article is transcribed from an image. Due to several factors, including poor image quality and difficult-to-read fonts/handwriting, it may have been transcribed incorrectly. If you have a higher quality version of the source image, or a more accurate reading of the text, please visit this article's talk page.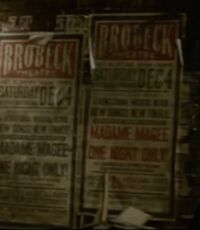 The Brobeck Theatre was a theatre located in New York City.[1][2]
In 1926, posters were put up in an alleyway to promote a one-night-only show by Madame Magee, which was to be held on Saturday 4 December.[1] Posters were also placed around the New York port advertising a performance by Freddy Forgione on the same night.[2]
In 1927, the theatre was showing performances by the Marvellous Matelot who was on every day Monday through Thursday in evenings and afternoons. The show lasted two and a half hours, with all seats reserved according to posters put up to advertise the show.[3]
Appearances
Notes and references
Community content is available under
CC-BY-SA
unless otherwise noted.