Wiki Targeted (Entertainment)
Play Sound
Brutus Scrimgeour[2] was a wizard and prolific Quidditch fan. He served as headmaster of Hogwarts School of Witchcraft and Wizardry at some point[3][4] and also wrote the book The Beaters' Bible.[5]
Biography
Life and career
During his life, Scrimgeour taught at Hogwarts School of Witchcraft and Wizardry,[2] and was eventually appointed headmaster.[3][4]
Scrimgeour was a fan of Quidditch and may have been a Beater at some point.[5] He wrote a guide for Beaters, The Beaters' Bible, and gave a positive review of the book Quidditch Through the Ages by Kennilworthy Whisp, saying that it was "the definitive work on the origins and history of Quidditch" and that he "highly recommended" it.[5]
Legacy
Scrimgeour died sometime in or before the year 1994.[1] Multiple portraits of him were thereafter hung within Hogwarts Castle.
One portrait, hung in the Trophy Room, hid a secret passage to the fourth floor.[6] During the 1994-1995 school year, the password to open this passage was initially "Beati pacifici,"[6] meaning "blessed are the peacemakers" in Latin.[7] This was changed to "Iunctis viribus" ("by united efforts" in Latin)[8] later in the same school year.[6]
Another portrait of Scrimgeour was hung in the Headmaster's office.[4]
Etymology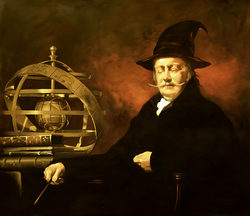 The name "Brutus" is a Roman cognomen meaning "heavy" in Latin. Famous bearers include Lucius Junius Brutus, the traditional founder of the Roman Republic, and Marcus Junius Brutus, the statesman who conspired to assassinate Julius Caesar.
Behind the scenes
Appearances
Notes and references