"Is this all real? Or has this been happening inside my head?"

The topic of this article is of a real-life subject that has been mentioned "in-universe" in a canon source. The Harry Potter Wiki is written from the perspective that all information presented in canon is true (e.g., Hogwarts really exists), and, as such, details contained in this article may differ from real world facts.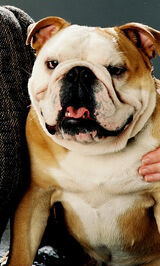 The bulldog is a medium-sized breed of dog, characterised by its squat, muscular body and wrinkled face with a pushed-in nose.[1]
Marjorie Dursley bred bulldogs and owned twelve herself.[2] Her favourite, a male named Ripper, could not stand to be away from her, and thus she brought him along with her on visits with her brother's family at 4 Privet Drive.[2]
Behind the scenes
On Pottermore, Rowling revealed that she regretted making Marge a breeder of bulldogs, as she had come to know them to be a non-aggressive breed, and her sister owns one. However, she did note that they tend to look grumpy, and thus suited Marge.[3]
Appearances
Notes and references
*Disclosure: Some of the links above are affiliate links, meaning, at no additional cost to you, Fandom will earn a commission if you click through and make a purchase. Community content is available under
CC-BY-SA
unless otherwise noted.