Lady Carmilla Sanguina
(
1561
-
1757
) was an infamous
vampire
who bathed in the
blood
of her victims, believed it would retain her youth and beauty.
[1]
Etymology
The surname Sanguina is derived from the Latin sanguineus, which means "of blood," "bloody," or "bloodthirsty."
Behind the scenes
Lady Sanguina may have been been inspired by Erzsébet Báthory, a 16th-century Hungarian countess who was accused of killing young women, then bathing in their blood.
Carmilla is a Gothic 19th-century novel written by Sheridan Lefanu and starring a female vampire with that name. The story has been adapted to cinema and comic-books, with the character (or similar characters with the same name) appearing in other franchises.
Appearances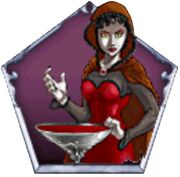 Notes and references
Community content is available under
CC-BY-SA
unless otherwise noted.