Jurassic World: Dominion Dominates Fandom Wikis - The Loop
Play Sound
"Is this all real? Or has this been happening inside my head?"

The topic of this article is of a real-life subject that has been mentioned "in-universe" in a canon source. The Harry Potter Wiki is written from the perspective that all information presented in canon is true (e.g., Hogwarts really existed), and, as such, details contained in this article may differ from real world facts.
"I don' like cats, they make me sneeze."
— Rubeus Hagrid's dislike of cats
A cat is a small, furry domesticated mammal of the feline family,[5] which was used in both the wizarding and Muggle worlds as a pet.[4]
Description
Cats were sometimes kept as pets of witches and wizards. Students at Hogwarts School of Witchcraft and Wizardry were allowed to bring cats, among owls and toads, as their permitted pet at the school.[4] The Magical Menagerie in Diagon Alley had many cats for sale.[6] Among the students known to have brought cats were Hermione Granger[6] and Millicent Bulstrode.[7]
The Felifors Spell was a Transfiguration spell which could transform cats into cauldrons. It was taught to third-year students in Transfiguration during the 1986–1987 school year at Hogwarts by Professor McGonagall.[8]
Rubeus Hagrid remarked to Harry Potter on 31 July 1991 in Diagon Alley that he disliked cats, as they made him sneeze,[4] as he was allergic to them.[9]
On 25 December 1992, Hermione accidentally partly transformed herself into a cat with a botched Polyjuice Potion, having inadvertently added a hair from Bulstrode's cat, believing the hair belonged to its owner. As the potion was not intended for cross-species transformations, this resulted in Hermione spending the rest of her Christmas holidays in the school's Hospital wing to be returned to normal.[10]
Cats were also able to interbreed with Kneazles, and generally had up to eight kittens in every litter. Some wizards and witches made a living by breeding Kneazles or part-Kneazles. Arabella Figg, a Squib, made her living in this manner.[11][12]
It was a possible corporeal form of the Patronus Charm.[13][14] Minerva McGonagall's Patronus was a cat.[15] There were also Animagi wizards and witches who could assume the form of a cat, notably Minerva McGonagall.[16]
They could see or detect Dementors, as Mr Tibbles was able to inform his owner Arabella Figg of the Dementors present in Little Whinging on 2 August 1995.[12]
In addition to having a persian cat Patronus,[17] Dolores Umbridge seemed to have a fondness for kittens (baby or young cats). She owned a set of ornamental plates featuring kittens as well as pink notes with pictures of kittens in the corners,[18] and attached one with the note "To be punished" to a wanted poster of Harry Potter labelling him as "Undesirable Number One".[17] However, she found the real ones to be too much of a hassle to take care of, so she only focused on cat-themed decorations.[19]
Types of cats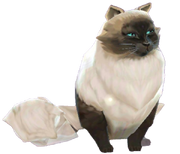 Coat types
Breeds
Known cats
Pure-breed cats
Half-cat half-Kneazle
Unspecified genetics
Known cat Patronuses
Known Animagus cats
Behind the scenes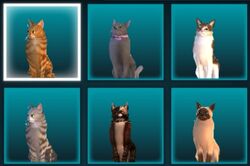 Appearances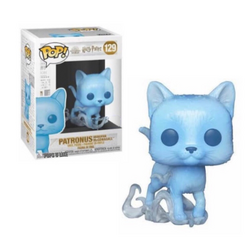 Notes and references
↑ Harry Potter and the Philosopher's Stone, Chapter 12 (The Mirror of Erised)
↑ 6.0 6.1 6.2 Harry Potter and the Prisoner of Azkaban, Chapter 4 (The Leaky Cauldron)
↑ 7.0 7.1 Harry Potter and the Chamber of Secrets, Chapter 12 (The Polyjuice Potion)
↑ Harry Potter: Hogwarts Mystery, Year 3, Chapter 3 (Three Broomsticks) - Transfiguration Lesson "Felifors"
↑ Harry Potter and the Chamber of Secrets, Chapter 12 (The Polyjuice Potion)
↑ 12.0 12.1 Harry Potter and the Order of the Phoenix, Chapter 2 (A Peck of Owls)
↑ (see this image)
↑ (see this image)
↑ 15.0 15.1 Harry Potter and the Deathly Hallows, Chapter 30 (The Sacking of Severus Snape)
↑ 16.0 16.1 Harry Potter and the Philosopher's Stone, Chapter 1 (The Boy Who Lived)
↑ 17.0 17.1 17.2 Harry Potter and the Deathly Hallows, Chapter 13 (The Muggle-Born Registration Commission)
↑ Harry Potter and the Order of the Phoenix, Chapter 13 (Detention with Dolores)
↑ Harry Potter and the Philosopher's Stone, Chapter 8 (The Potions Master)
↑ 24.0 24.1 24.2 24.3 Harry Potter and the Philosopher's Stone, Chapter 2 (The Vanishing Glass)
↑ Harry Potter and the Half-Blood Prince, Chapter 27 (The Lightning-Struck Tower)
↑ Harry Potter and the Deathly Hallows, Chapter 10 (Kreacher's Tale)
↑ Harry Potter: Hogwarts Mystery, Year 2, Side Quest "Scaredy-Cats"
↑ Harry Potter and the Deathly Hallows, Chapter 28 (The Missing Mirror)