Jurassic World: Dominion Dominates Fandom Wikis - The Loop
Play Sound
Warning!

At least some content in this article is derived from information featured in Harry Potter: Hogwarts Mystery. Spoilers will be present within the article.
The Celestial Ball was a ball held at Hogwarts at some point in the 1987–1988 school year. All attendees were required to wear formal clothing and the student committee was responsible for the decorations.[1]
Background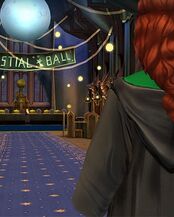 After Albus Dumbledore's announcement for the ball and the election for the head of the decorating committee, two candidates, Penny Haywood and Emily Tyler, showed interests in the position, with the former wanting "Stars" as the theme of the ball, whereas the latter pitched for "Planets".
Emily Tyler resorted to criticising Haywood and her ways, while Penny did not try to decry her opponent but instead, tried to convince all the students that she would do well as the head of the decorating committee. She took the help of Jacob's sibling to get elected. Haywood eventually won the election that was held in the Hogwarts Library.
Penny Haywood, along with her group of friends, Jacob's sibling, Tulip Karasu, Nymphadora Tonks, and Barnaby Lee, proceeded to make the decorations for the ball in the Charms Classroom, with Filius Flitwick's permission.[1]
The ball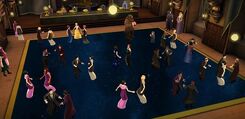 Jacob's sibling attended the ball with an undisclosed student. There were a lot of dances and refreshments. Rubeus Hagrid was there, with Jacob's sibling noticing that he's "got some moves". Even Argus Filch, despite his dislike of festivities, and Ben Copper, despite his nervous nature, were in attendance.
Merula Snyde enjoyed watching everyone else, while Tulip Karasu marvelled at the starry backdrop. Emily Tyler asked out Bill Weasley before the ball, but he rejected her offer. As the dancing came to a conclusion, Jacob's sibling thanked their date for coming with them, a gratitude which was mutual.[2]
Outfits
Behind the scenes
In Harry Potter: Hogwarts Mystery:

When Andre Egwu asked about the dress code, a generic looking NPC, who resembled Eliza, is seen sitting next to him.[1]
Regardless of Jacob's sibling's gender, the player has the option of selecting the following schoolmates as their date to the ball: Ben Copper, Penny Haywood, Barnaby Lee, Rowan Khanna, Tulip Karasu, Andre Egwu, Ismelda Murk, and Merula Snyde.[3]
The Star-Studded Style Dress robes Jacob's sibling may choose to wear prominently features several real-life constellations: Cassiopeia, Canis Major, Draco, and Cygnus, references to Cassiopeia Black, Sirius Black, Draco Malfoy, and Cygnus Black respectively.
Appearances
Notes and references