Warning!

At least some content in this article is derived from information featured in Harry Potter: Hogwarts Mystery. Spoilers will be present within the article.
"Today we'll go over a particularly sneaky creature: Chameleon Ghouls! There is nothing worse than an inconspicuous object turning into a ghoul when you least expect it. Which is why I'll show you how to handle these masters of disguise. Let's get started! I'd like to introduce you to a Chameleon Ghoul... And to show you how to defend yourself!"
— Bill Weasley teaching seventh-year students about these ghouls in Defence Against the Dark Arts
A Chameleon Ghoul was a breed of ghoul that could disguise itself as an everyday object to avoid detection.[1][4][2] The Revelio Charm was capable of uncovering disguised Chameleon Ghouls and the Engorgement Charm was the most useful offence against them.[4]
History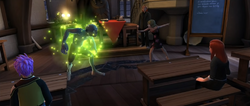 During the 1990–1991 school year at Hogwarts School of Witchcraft and Wizardry, seventh-year students were taught about Chameleon Ghouls in extra curricular Defence Against the Dark Arts evening classes by Bill Weasley. In this class, he showed his students one of these ghouls disguised as a Mechanical Death Eater.[1]
Later during this year, Amos Diggory informed Jacob's sibling that a Chameleon Ghoul was on the loose in the British Ministry of Magic Headquarters, disguised as everyday items ready to attack, and that they needed to help the Ministry deal with it as part of their work experience. Jacob's sibling underwent researching these ghouls as part of their job and studied how to best handle them. After the problem was dealt with, they commented that using the coat racks again should be safe again, with Amos replying that they needed to careful nonetheless.[4]
During her second year at Hogwarts in 1992, Hermione Granger read about Chameleon Ghouls and brought them up when she, Harry Potter, and Ron Weasley were discussing how the monster from the Chamber of Secrets had managed to remain undetected for so long.[2]
Behind the scenes
The Chameleon Ghoul makes its appearance in LEGO Harry Potter: Years 1-4 as a common enemy in the game. They are almost always disguised as statues. They are also on occasion books that fly and try to attack by biting. They come into action when the player comes nearby.[5]
Appearances
Notes and references