Warning!

At least some content in this article is derived from information featured in Harry Potter: Hogwarts Mystery. Spoilers will be present within the article.
Chester Davies was a wizard who began attending Hogwarts School of Witchcraft and Wizardry in 1980[1][5] and was sorted into Ravenclaw. He had been made a Prefect in 1984 and was responsible for watching over the first year students in Ravenclaw.[6] Chester was still at Hogwarts the following two years and graduated in 1987.[5]
Biography
Chester Davies was born between 1 September 1968 and 31 August 1969[1]. He had a younger brother, Roger Davies, born about nine years later.[3]
Hogwarts years

(1980-1987)
He began attending Hogwarts School of Witchcraft and Wizardry in September 1980 and was placed in Ravenclaw House by the Sorting Hat. He became a Prefect in 1984.
During the 1986–1987 school year, Chester was caught off guard by a Full Body-Bind Curse when he was in front of the Potions Classroom. It was unknown if he was aware that the curse was cast by Jacob's sibling with the coercion of Penny Haywood, or who had revived him afterwards.[7] Later in the school year, when a guest speaker was to arrive at Hogwarts, Chester believed the person to be Ambrosius Flume, the owner of Honeydukes Sweet Shoppe.[8]
Chester graduated from Hogwarts in 1987.[1]
Later life

(1987-)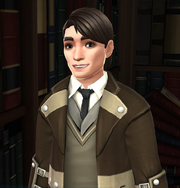 By 1988, Chester started working in the Improper Use of Magic Office at the British Ministry of Magic.[9]
In September 1988, he met up in the Three Broomsticks Inn with other former Prefects Angelica Cole, Jane Court and Felix Rosier, as well as Prefects at the time William Weasley, Charles Weasley and Jacob's sibling.[9]
In the 1989–1990 school year, he met up with Jacob's sibling in Flourish and Blotts, where he gave information which helped the student get into the Ministry of Magic.[10]
Behind the scenes
In Harry Potter: Hogwarts Mystery, Chester's role is prominent to players in Ravenclaw, including telling the player to focus on their schoolwork to build up House points, searching for the missing Ben Copper, and encouraging and helping the player learn new spells. However, his existence and interaction are not limited to Ravenclaw players, for in several scenes in the Great Hall, he provides comments upon socialising regardless of the player's House, most notably helping Jacob's sibling and Dennis become members of Frog Choir.
Appearances
Notes and references
*Disclosure: Some of the links above are affiliate links, meaning, at no additional cost to you, Fandom will earn a commission if you click through and make a purchase. Community content is available under
CC-BY-SA
unless otherwise noted.