Wiki Targeted (Entertainment)
Play Sound
Warning!

At least some content in this article is derived from information featured in Harry Potter: Hogwarts Mystery. Spoilers will be present within the article.
"Chizpurfles are parasites that are attracted to magic. Their carapaces are used as ingredients in certain potions but are particularly difficult to split open."
The Chizpurfle was a type of very small magical parasite. Crab-like in appearance, this beast can grow up to a twentieth of an inch including its fangs.[1] They were attracted to sources of magic and were commonly found in the fur and feathers of Crups and Augureys, respectively.[1] The carapaces and fangs[3] of the Chizpurfle were used in Potion-making.[1]
Biology and Habits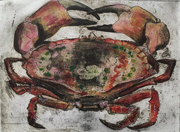 Chizpurfles attacked magical objects like wands and cauldrons, gnawing through to the magical core or gorging on the last remnants of potions.[1] They were also attracted to spells, such as the Wand-Lighting Charm.[2]
In the absence of magic, Chizpurfles attacked Muggle items powered by electricity. This explained the sudden failure of various new electrical goods.[1]
Chizpurfle infestations were usually easily handled by patented potions on the market, but more severe infestations need to be dealt with by the Pest Sub-Division of the Department for the Regulation and Control of Magical Creatures.[1]
Etymology
The word "Chiz" is an English word for "cheat" or "swindle", presumably a cognate of "chisel". The word "Purfle" is a fur trimming border of a garment.
Behind the scenes
Appearances
Notes and references