Jurassic World: Dominion Dominates Fandom Wikis - The Loop
Play Sound
The Circus Arcanus was a travelling wizarding circus and freak show owned by Skender that boasted the "world's most complete congress of human oddities". It consisted of a daily street parade, which the organisers promised was "worth coming miles to see", and would amuse both young and old. The circus opened every evening on Thursday and Saturday. Adult tickets costed five bezants while infant tickets costed two bezants.[4]
History

The Circus Arcanus visited New York for two weeks in 1926, starting on 29 November, and ending with a "spectacular" final show at 8:00 PM on 13 December.[4] Two parades were held on Friday 3 December, at 3:15 PM and 8:00 PM, respectively.[4]
The Circus Arcanus was slated to travel to somewhere in Europe after its stop in New York.[4] They boarded the SS. ONDINE which headed to Europe. In 1927, the circus performed for the very first time in France on Rue Claudel and Rue Girardon for only two weeks, and was attended by many of those in the wizarding communities.[5][6]
During the 2020s, part of the circus performers appeared as the Foundables during the Calamity. Volunteer members of the Statute of Secrecy Task Force were able to free them and returned to their original time.[7]
Attractions and workers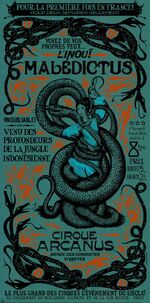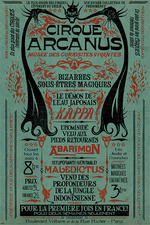 "I'd much rather be one of the circus non-beast performers. At least that fellow could get out and stretch his legs among the crowd..."
"I'm not so sure about that, Constance. From what I've learned, some of the performers may have been there against their will."
— Dialogue between Constance Pickering and Harry Potter
Appearances
Notes and references