We must've been through hundreds of books already and we can't find him anywhere —

This article is lacking a section listing all of its known appearances in canon. Please help the Harry Potter Wiki by adding such a section, so that it conforms with our layout guide.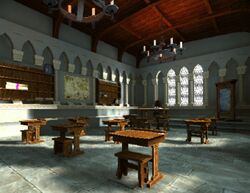 A classroom is a room in which a class of students is taught. In Hogwarts School of Witchcraft and Wizardry, several subjects have lessons take place in varying classrooms throughout the castle.
List of known classrooms
Greenhouses
Dungeons
Ground-floor
First-floor
Second-floor
Third-floor
Fourth-floor
Fifth-floor
Sixth-floor
Seventh-floor
Higher floors
Unknown floor
North Tower
South Tower
Notes and references