Classroom 5B (also referred to as Card Trading Club room) is a small, disused classroom located on the fifth floor of Hogwarts Castle.[1] As long as it was unused as a teaching facility, this classroom served as headquarters of the Wizard Card Collectors' Club.[2]
The space is usually messy and has a laid-back atmosphere, with posters and announcement boards on the walls.[3][4][2] There is also old classroom furniture, such as bookshelves, writing desks, a planisphere and a blackboard.[1] The room contains a large main area for meetings, trading cards and playing card games. There is also a backroom containing locked chests with prizes that can only be acquired by collecting specific Chocolate Frog Card sets.[4][2]
1991-1992 school yearEdit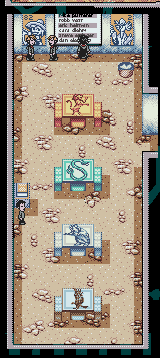 During the 1991-1992 school year, this room was already used as the headquarters of the Wizard Card Collectors' Club. Twins Fred and George Weasley ran the Weasley Candy Emporium and the Weasley Supplies Bargain Basement in this classroom as well.[3]
Derek, the leader of the Club, gave out Chocolate Frog Card combinations as soon as they were released to students who were interested in them. He also organised games of pairs with Chocolate Frog Cards, and encouraged students to trade cards here.[3]
1992-1993 school yearEdit
In the 1992–1993 school year, a new game was held at the Club: there were prizes available for all who were able to collect specific Card sets. The prizes were kept in locked chests in a smaller backroom.[4]
Fred and George Weasley left the Club, and started selling their wares in empty rooms off the Entrance Hall and the Seventh-floor corridor.[4]
1993-1994 school yearEdit
During this school year, the Club still occupied Classroom 5B. Derek kept the game he had started the previous year, and refilled the chests with other prizes for completing one's collection.[2]
AppearancesEdit
Notes and referencesEdit