Jurassic World: Dominion Dominates Fandom Wikis - The Loop
Play Sound
Conjuration was an advanced form and type of Transfiguration,[1] some of the most complex magic taught at Hogwarts School of Witchcraft and Wizardry.[2] Conjurations were distinguished from the other branches of Transfiguration, by their ability to transfigure the desired object from 'thin air', while its opposite, Vanishment, caused desired objects to disappear from existence.
Conjuration was more than difficult than Transformation, Switching, and Vanishment and was only taught to students at N.E.W.T.-level.[2] The only form of Transfiguration that exceeded Conjuration in difficulty was Human Transfiguration. Conjuration also had some overlap with charms and some dark charms, such as the Water-Making Spell and the floating eye curse.
Nature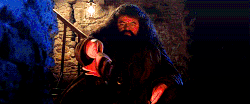 Since Conjuration was an advanced form of Transfiguration, most were N.E.W.T.-level, taught to sixth-years and above at Hogwarts School of Witchcraft and Wizardry,[2] although some conjurations were simpler and taught to younger students. Some conjurations taught included the Fire-Making Spell (Incendio), the Water-Making Spell (Aguamenti) and the Bird-Conjuring Charm (Avis), the former two of which were taught in Charms class. There were limits as to what can be conjured; Gamp's Law of Elemental Transfiguration had five Principal Exceptions which could not be conjured, one of which was "good food".[3]
According to Book of Spells by Miranda Goshawk, "for reasons that are still not fully understood ... two categories of creature are easier to conjure from nothing than any other: birds and snakes."[4] The spells to conjure these creatures were the Bird-Conjuring Charm and the Snake Summons Spell respectively.
Dangers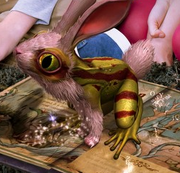 Many things could go wrong when attempting to conjure something from nothing, especially in the case of living creatures. If Conjuration was not performed exactly right or if the caster was simply messing around with Conjuring Spells, mistakes such as frog-rabbit hybrids could occur.
The hybrids in question could be explainable by the magical law Principle of Artificianimate Quasi-Dominance. Things such as severed heads and indeterminate stumps could also occur, when the conjuration wasn't exactly right, as well.[4]
Known instances of Conjuration
Pre 1991
1991–1992 school year
1992–1993 school year
1993–1994 school year
1994–1995 school year
1995–1996 school year
Caster(s)
Date
Notes
Albus Dumbledore
12 August, 1995
Nonverbally conjured two armchairs, for himself and Arabella Figg, during the disciplinary hearing of Harry Potter.
17 June, 1996
During the Duel in the Ministry Atrium, Dumbledore conjured a fiery rope which he sent at Lord Voldemort by use of the Flagrate Spell.
Arthur Weasley
January 1996
Nonverbally conjured a number of chairs for his family and friends while they were visiting him in St Mungo's Hospital for Magical Maladies and Injuries.
Minerva McGonagall
December 1995
Nonverbally conjured three draws up straight-backed, wooden chairs, for herself, Harry Potter and Ron Weasley
Dolores Umbridge
17 June, 1996
Conjured ropes which bound Magorian the Centaur, after she insulted them in the Forbidden Forest, by use of the Incarcerous Spell.
Lord Voldemort
During the duel in the Ministry Atrium, Lord Voldemort conjured a silver shield to block one of Albus Dumbledore's spells.
1996–1997 school year
1997–1998 school year
2019-2020
Known Conjuration spells
Known practitioners
See also
Behind the scenes
Appearances
Notes and references