Wiki Targeted (Entertainment)
Play Sound
"Dangerous" Dai Llewellyn was a very famous Welsh wizard and Quidditch player for the Caerphilly Catapults, and was noted for the risks he took during a match.[1]
Biography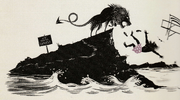 He died when he was eaten by a Chimaera while on holiday in Mykonos, Greece. His death resulted in a day of national mourning for all Welsh witches and wizards. Llewellyn was honoured by the creation of the Dangerous Dai Llewellyn Commemorative Medal, and St Mungo's Hospital for Magical Maladies and Injuries named the Serious Bites ward after him. Kennilworthy Whisp wrote a biography of the player entitled He Flew Like a Madman.[1]
Etymology
Dai Llewellyn was a Welsh socialite who died in 2009. The name might be an allusion to actor Desmond Llewelyn, who played the character "Q" in the James Bond films from 1963 to 1999. The name "Dai" is derived from the old Celtic word dei meaning "to shine", but is also a commonly-used nickname in Wales as a familiar form of the name "David", so it's quite likely that this was 'Dangerous' Dai's real first name.
Appearances
Notes and references