"There are plenty of eye-witness accounts. Just because you're so narrow-minded you need to have everything shoved under your nose before you–"

This article contains a list of appearances, but currently has few or no notes and references. Please help the Harry Potter Wiki by adding notes and/or references to bring this article to a higher standard of quality.
Dawlish is the surname of a wizarding family that lived in Great Britain. It is unknown whether they are Pure-blooded or have some Muggle heritage as well.
Family Members
Helen Dawlish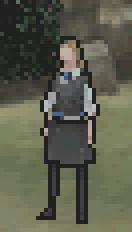 Main article: Helen Dawlish
Helen Dawlish was a Ravenclaw student at Hogwarts School of Witchcraft and Wizardry in the late 1990s. She was a fan of Gilderoy Lockhart, and spent the summer of 1996 reading his books, of which Magical Me was her favourite. After returning to school for the 1996–1997 school year, she ran a Duelling Club in the Transfiguration Courtyard, which also included Shoma Ichikawa and Rhonda Fladbury. She offered sloth brains as a reward to everyone who beat her in a duel.
John Dawlish
Main article: John Dawlish
John Dawlish is an Auror who worked at the Ministry of Magic under Cornelius Fudge, Rufus Scrimgeour and Pius Thicknesse. Albus Dumbledore referred to Dawlish as being an excellent Auror, having achieved Outstanding in all of his Nastily Exhausting Wizarding Tests, but Dawlish nearly always ends up incapacitated in some way. Nevertheless, he at one point was the personal bodyguard to Fudge, the Minister for Magic. After Rufus Scrimgeour became the Minister, Dawlish was assigned with the job of following Albus Dumbledore while he left Hogwarts School of Witchcraft and Wizardry. Each time, Dumbledore jinxed Dawlish. Also, when Neville Longbottom was rebelling against the Carrows, they sent Dawlish after Neville's grandmother, Augusta Longbottom, and he ended up in St Mungo's and Neville's grandmother went into hiding.
Etymology
Dawlish is the name of a seaside town in Devon. It's name comes from a nearby stream, once called "Deawlisc", meaning "devil water".
Appearances
*Disclosure: Some of the links above are affiliate links, meaning, at no additional cost to you, Fandom will earn a commission if you click through and make a purchase. Community content is available under
CC-BY-SA
unless otherwise noted.