Jurassic World: Dominion Dominates Fandom Wikis - The Loop
Play Sound
Warning!

At least some content in this article is derived from information featured in Harry Potter: Hogwarts Mystery. Spoilers will be present within the article.
"It wasn't a pretty sight. Hermione's front teeth — already larger than average — were now growing at an alarming rate; she was looking more and more like a beaver as they elongated, past her bottom lip, towards her chin — panic-stricken, she felt them, and let out a terrified cry."
— Description
Densaugeo[2] was the incantation of a hex[3] which caused the front teeth to elongate at an alarming rate.[1][2]
History
"Today, you will be learning the hex Densaugeo. I hope you're not self-conscious, because this hex causes one's teeth to elongate at an alarming rate."
— Patricia Rakepick introducing this hex to fifth-years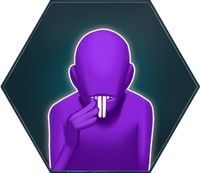 During the 1988–1989 school year at Hogwarts School of Witchcraft and Wizardry, this hex was taught to fifth year Defence Against the Dark Arts students by the then Professor of the subject Patricia Rakepick.[3]
Hermione Granger was hit by this hex from Draco Malfoy's wand. Draco and Harry Potter had begun fighting in the corridor, which eventually led to a duel, but the spells they cast at each other missed and hit Hermione and Gregory Goyle instead.[1]
When Madam Pomfrey shrank Hermione's teeth, she told the girl to tell her when they were back to their normal size, but Hermione deviously let the spell go on a little longer. This evened them out without the braces that her parents (both muggle dentists) had intended to give her. She later confessed to Harry that she had previously considered fixing her teeth with magic but resisted out of respect for her parents.[1]
In September 2020, an adult Draco Malfoy used this hex again at Harry Potter during his duel with him in Harry's house, although Harry missed being hit by the spell.[5]
Known practitioners
Etymology
The incantation is derived from Latin "dens", which means "tooth", and "augeo", which translates to "increase" or "grow".
See also
Behind the scenes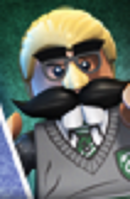 Appearances
Notes and references