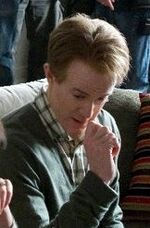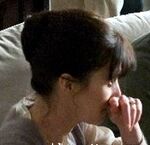 Hermione: "Well, both my parents are dentists."
Slughorn: "Fascinating, and is that considered a dangerous profession?"
— Hermione on her parent's careers.
A dentist is a licenced professional who specialises in oral health and hygiene.
History
Mr and Mrs Granger, parents of Muggle-born witch Hermione Granger, were both dentists. In the 1993–1994 school year, she considered getting them some Toothflossing Stringmints as a Christmas gift, believing they would enjoy them.
My Teeth was a magazine of interest to those in this profession.
Behind the scenes
In the film adaptation of Harry Potter and the Half-Blood Prince, it is implied that the profession does not exist in the wizarding world, as Professor Horace Slughorn did not know what they were.[1] However, a surgical dental operator stall can be seen in Diagon Alley under Mr Mulpepper's Apothecary in the films, implying that the profession does in fact exist in the wizarding world. In addition, in the film adaptation of Harry Potter and the Chamber of Secrets, the clock in the Weasley house showing that Fred, George, and Ron are home from rescuing Harry passes over "Quidditch", "Jail", and "Dentist", hinting that dentists are known in the wizarding world, or that the profession is just known by the family through Arthur's knowledge of Muggles.
When first observing Tom Riddle's diary, Harry Potter noted that there was nothing in it, "not even Auntie Mabel's birthday or dentist, half-past three."[2]
Appearances
Notes and references
Community content is available under
CC-BY-SA
unless otherwise noted.