Doctor Strange in The Multiverse o Madness - The Loop
Play Sound
Warning!

At least some content in this article is derived from information featured in Harry Potter: Hogwarts Mystery. Spoilers will be present within the article.
Donaghan Tremlett (b. 1972) was a Muggle-born wizard,[2] who played bass for the popular wizarding band The Weird Sisters.[6]
Biography
Early life
Donaghan Tremlett was born in 1972 to Muggle parents.[2] He started playing the bass guitar at some point in his childhood, and was noted to be talented at it during his Hogwarts years.[7]
Donaghan began attending Hogwarts School of Witchcraft and Wizardry in 1983 or 1984.[8] During his Hogwarts years, he saw the The Weird Sisters perform their song Do the Hippogriff and auditioned to become the new bass player of the band. Donaghan became a member of the band, replacing Jacob's sibling, as he could actually play the bass without the use of magic.[7]
Donaghan's favourite Quidditch team was the Kenmare Kestrels.[2]
Later life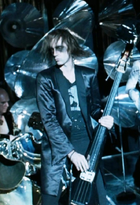 On Christmas Day in 1994, the band attended the Yule Ball at Hogwarts,[9] where they played classic hits like "Magic Works" and "This Is the Night", as well as a new song titled "Do the Hippogriff".[10]
Donaghan married an individual in September 1995. The wedding was mentioned in the Daily Prophet on 7 September.[3]
In June 1997, Donaghan attended the funeral of Albus Dumbledore, and was one of several familiar people Harry Potter noticed among the crowd.[11]
After the Ministry of Magic was taken over by Lord Voldemort in September 1997, Donaghan, as a Muggle-born, presumably faced charges before the Muggle-Born Registration Commission. He may have been sent to Azkaban, or else gone into hiding, like many others of his heritage.
Physical appearance
Donaghan was described as "hairy"[11] and, like all members of the Weird Sisters, wore "artfully torn" black robes when onstage.[9]
Behind the scenes
Appearances
Notes and references