Jurassic World: Dominion Dominates Fandom Wikis - The Loop
Play Sound
Druella Black[4] (née Rosier) (fl. 1951-1955) was a pure-blood witch who married Cygnus Black III. The couple had three daughters: Bellatrix, Andromeda, and Narcissa Black.
Biography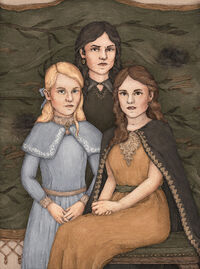 Druella was a member of the Rosier family, a family that strongly believed in blood purity.
Druella and her husband had three daughters: Bellatrix, Andromeda, and Narcissa. Bellatrix was the oldest and Narcissa the youngest. Her oldest and youngest shared her belief in the importance of blood purity. This belief led them to make acceptable pure-blood marriages, Andromeda however did not.
Through Bellatrix, Druella is the mother-in-law of Rodolphus Lestrange. She is also the grandmother of Bellatrix's only daughter, Delphini. Delphini was fathered by Voldemort through an affair he and Bellatrix shared. Through Andromeda (who was disowned for marrying Muggle-born wizard Ted Tonks) she is the grandmother of Nymphadora Tonks and great-grandmother of Teddy Lupin. Through Narcissa, she is the mother-in-law of Lucius Malfoy, the grandmother of Draco Malfoy, and great-grandmother of Scorpius Malfoy.[2]
Druella may be related to Gellert Grindelwald's lieutenant Vinda Rosier, the Death Eater Evan Rosier, and another Death Eater named Rosier.[5]
Behind the scenes
Etymology
Druella may be a combination of the names Drusilla, often shorted to Dru and meaning "dewy-eyed" or "fruitful", and Ella, a Norman name derived from the Germanic word ali, meaning "other".[6] Drusilla was the name of infamous Roman Emperor Caligula's favourite sister, as well as the daughter named after her.
Appearances
Notes and references